MODERN NEUTRAL BATHROOMS
Neutral bathrooms have been the style for some time now, and we don't see that changing anytime soon. A neutral bathroom is better for resale. You can add pops of color through wall color, towels, or decor. These items can be easily and inexpensively updated to evolve with the latest color trends.
Here we've gathered a bunch of neutral bathroom remodeling projects we've completed.  We hope these bathrooms in a neutral color palatte will provide ideas and inspiration.
Black and White Bathrooms
This is a classic look that is back in style. We've designed black and white bathrooms with a vintage look with pedestal sinks and claw-foot tubs. Designers can also give black and white bathrooms a modern look with crisp lines and sleek finishes.  However, in our northern New Jersey service area, we tend to get customers looking for a design somewhere in between.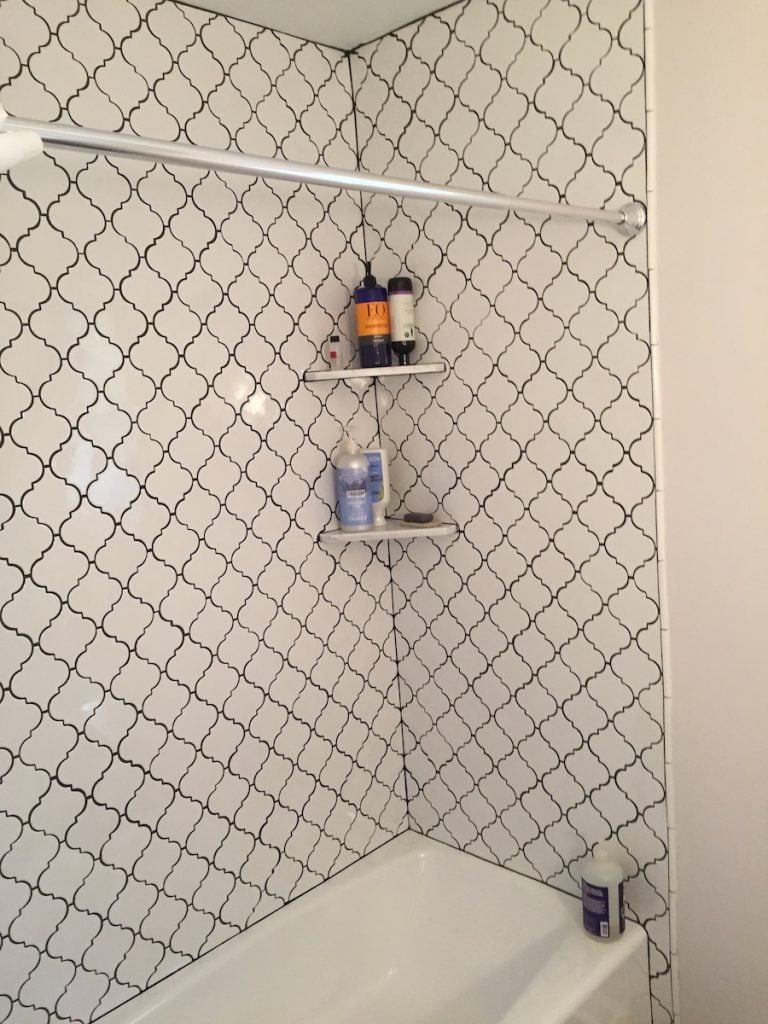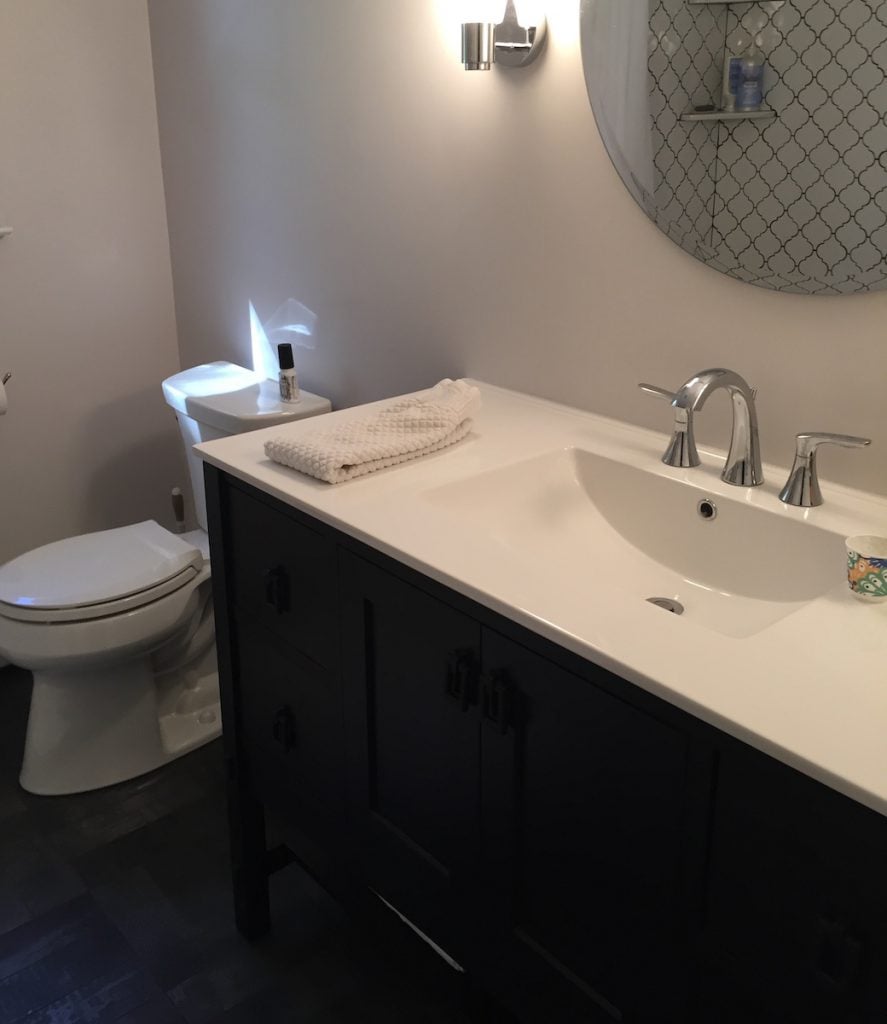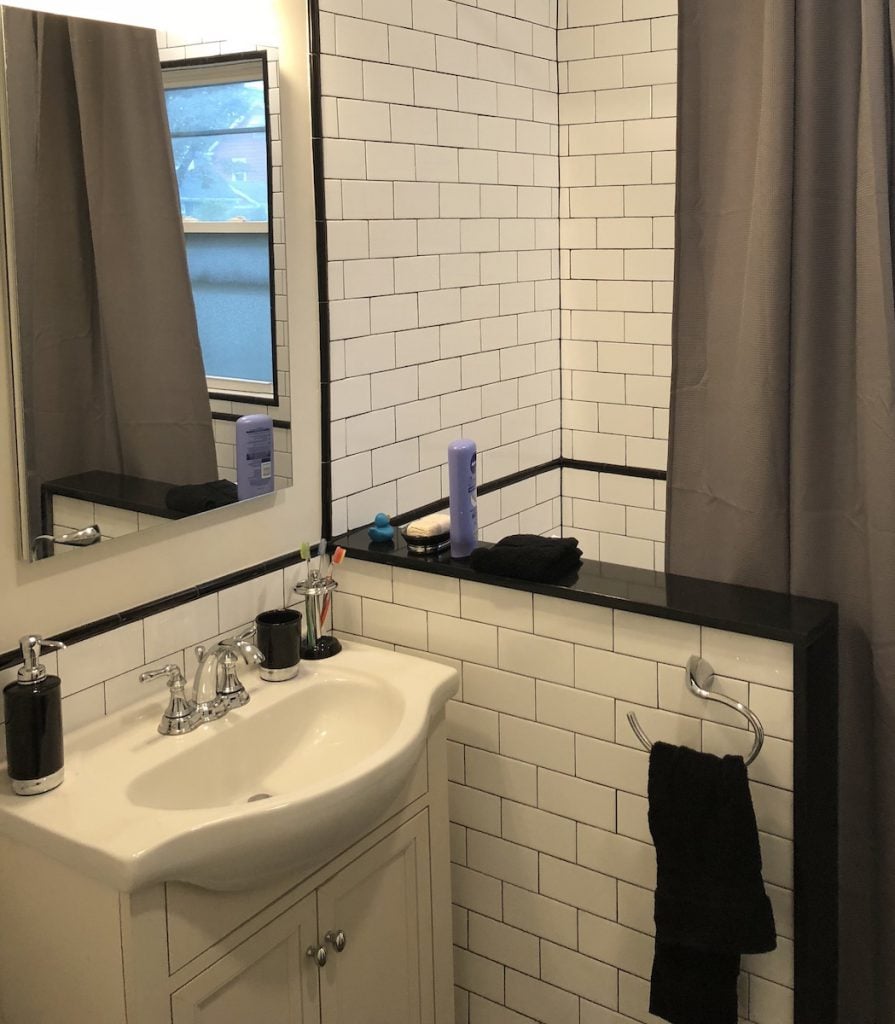 White and Grey Bathrooms
This is a contemporary twist on the classic black and white bathroom. We've designed many bathrooms with bright white tile with accents of dark grey or a blend of grey and black. Any wall color will look good with this color combination. Brightly colored accents and decor can be used. For a modern look, forget the decor and keep all surfaces free and clear.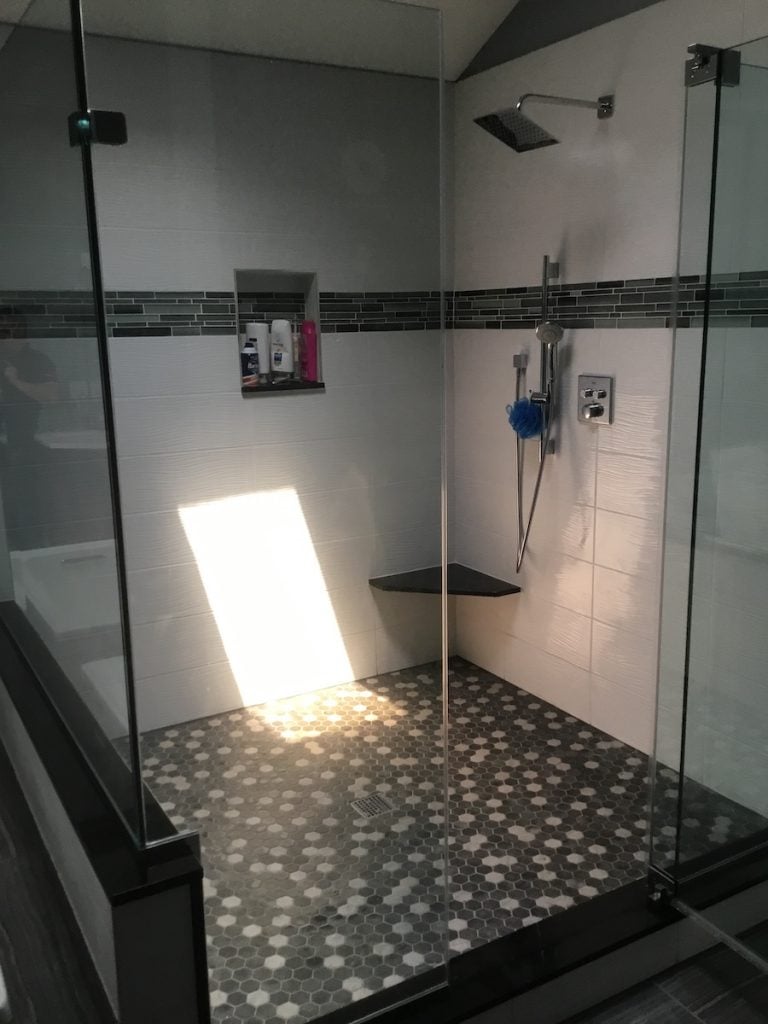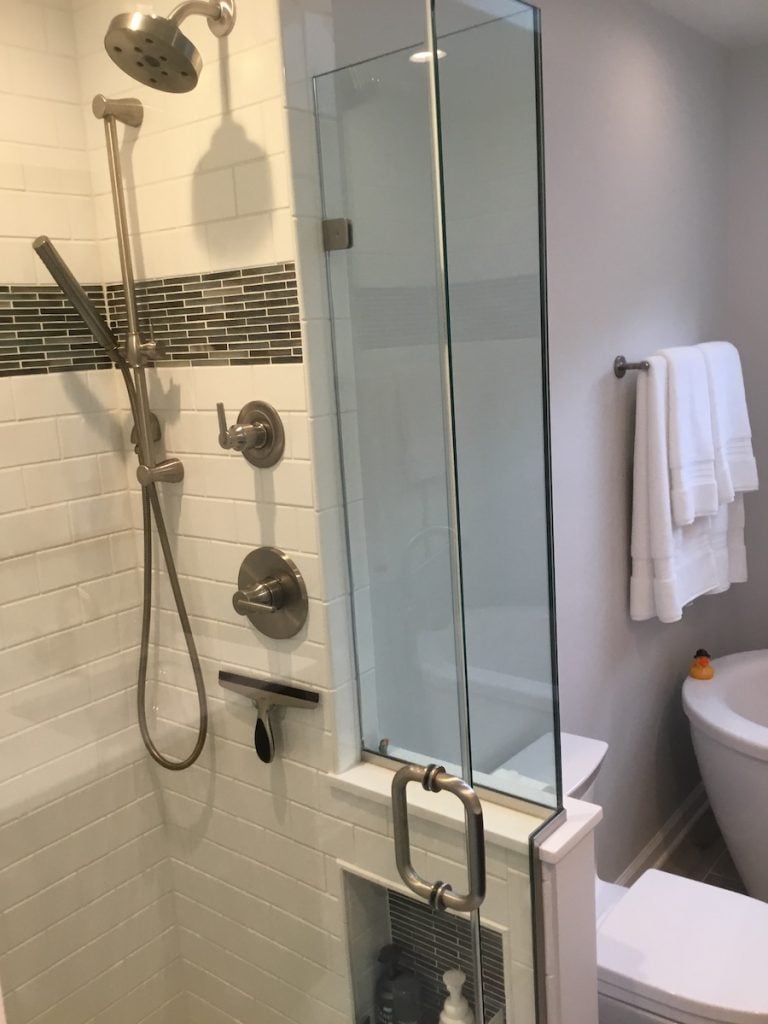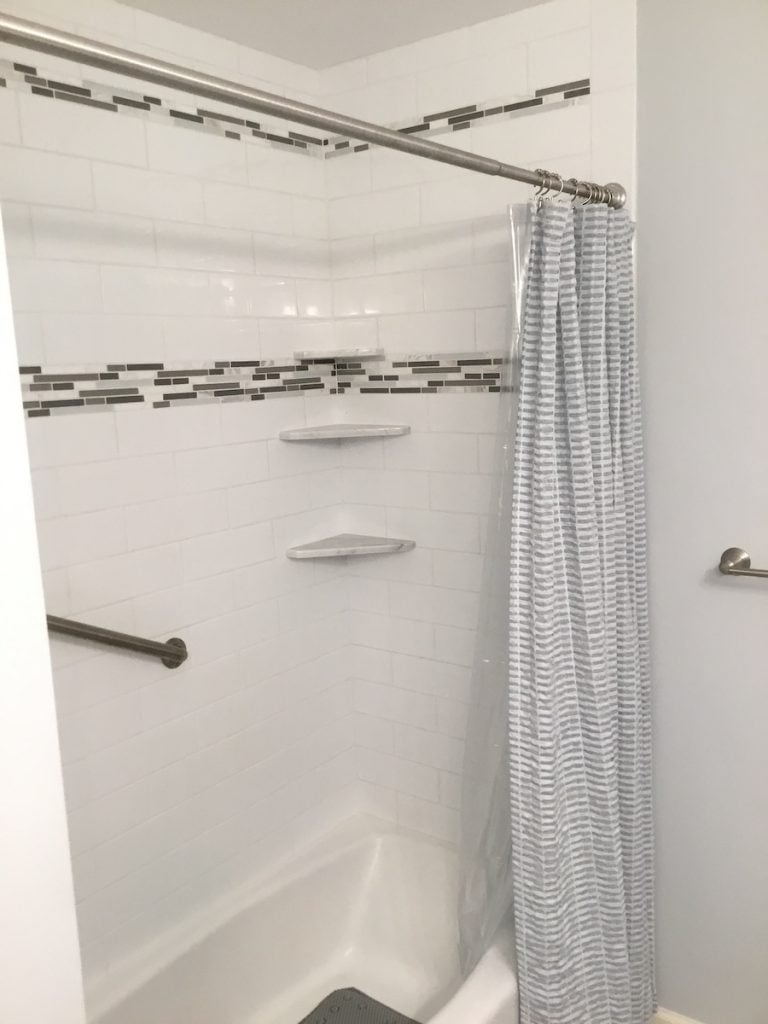 GRAY BATHROOMS
The most popular color palette for bathrooms is gray. A mix of white and gray tends to be most popular, with wood vanities and wood-look tile flooring used to warm up the space.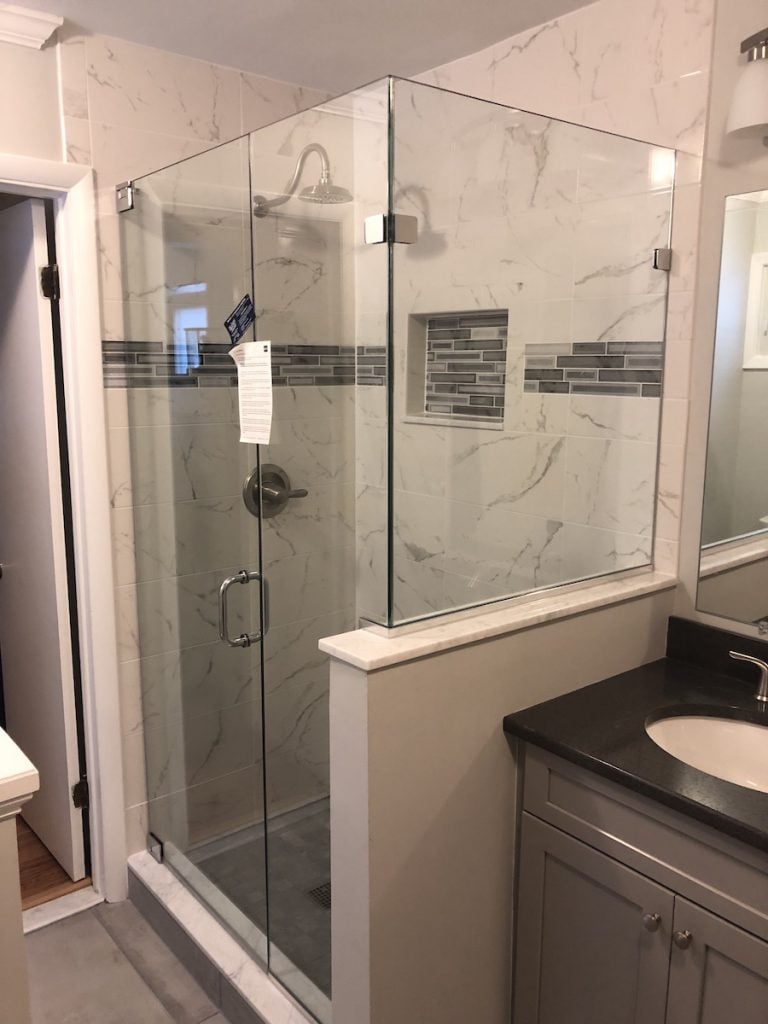 A blend of grays, blacks and whites make for an interesting neutral bathroom. We accented the marble look shower tile with a gray glass mosaic tile. The gray vanity is topped off with black quartz and a white sink.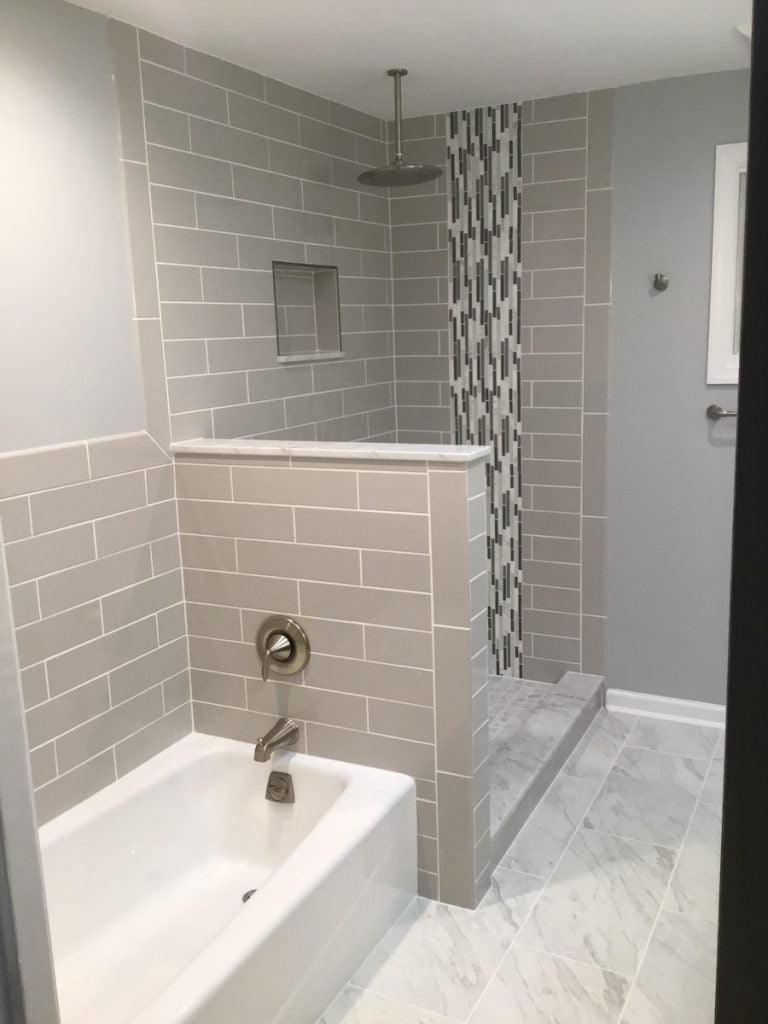 A simple 4×16 gray subway tile is installed in the shower and tub surround. We added a wide, vertical accent of glass mosaic tile to the back of the shower. This provides and interesting focal point. Large format marble look tile provides a classic, timeless look for the bathroom floor.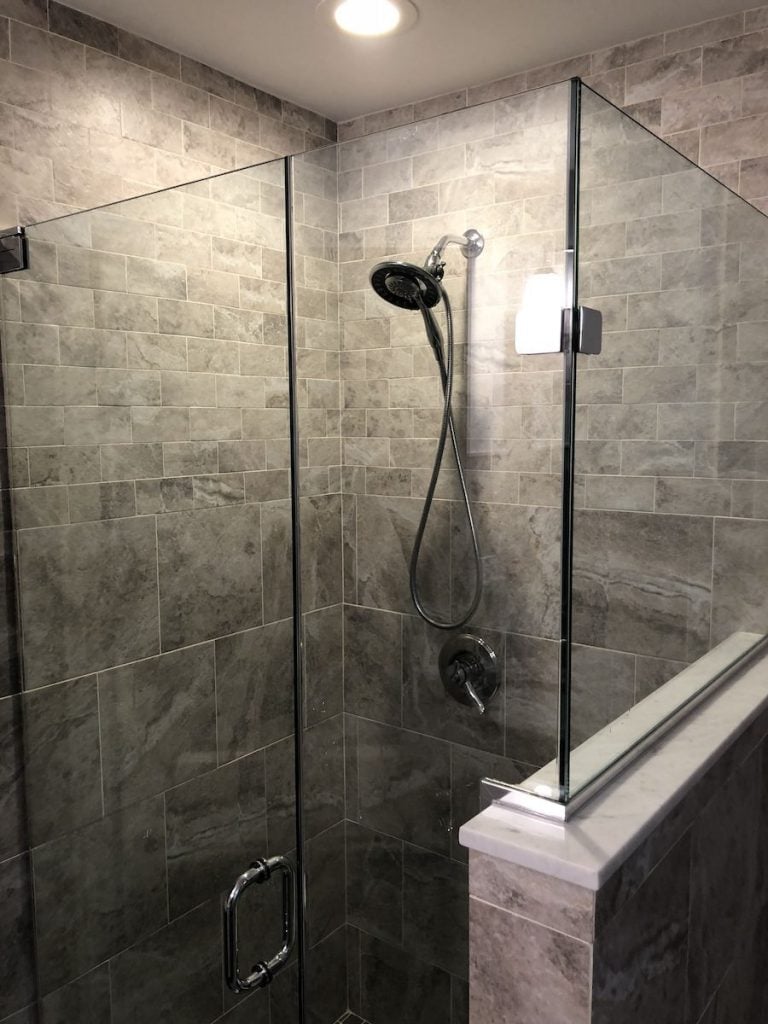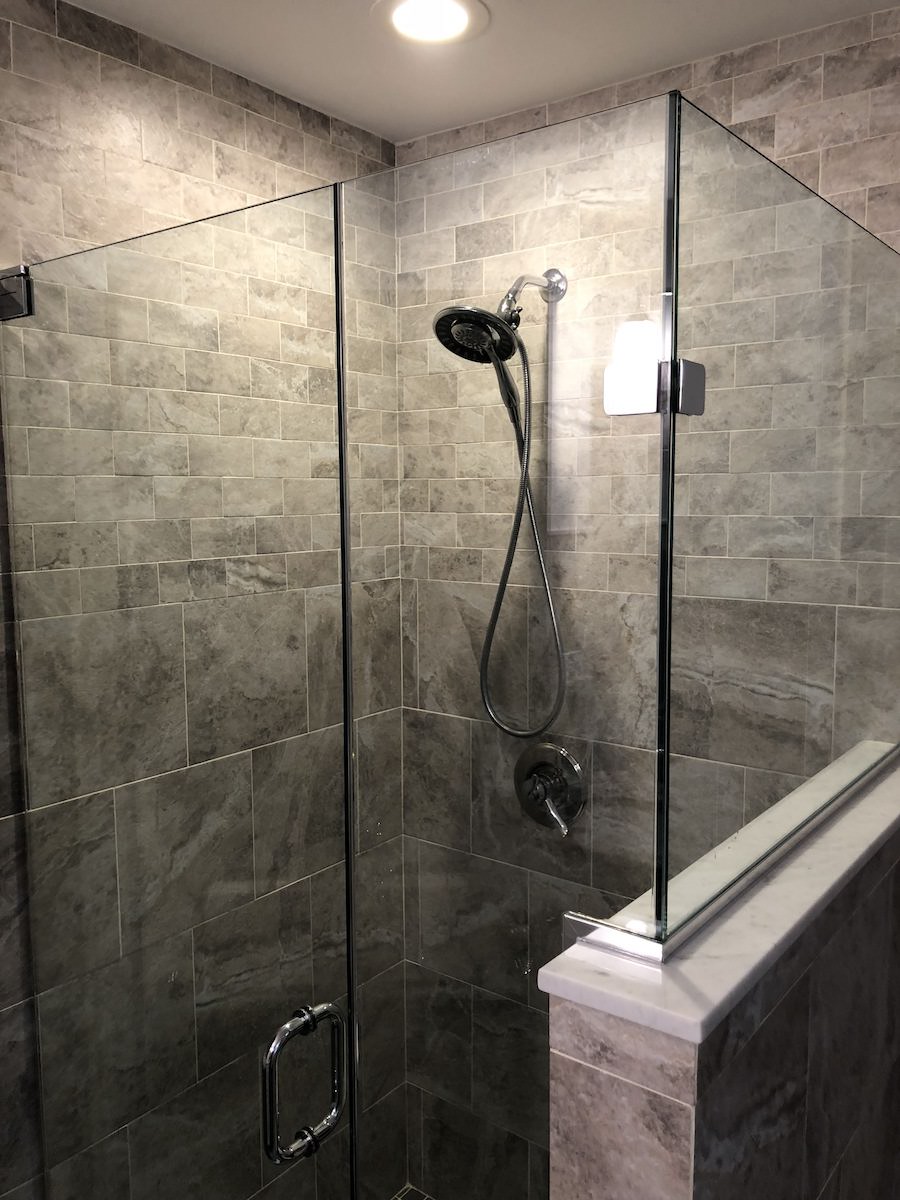 The same grey tile was installed throughout this shower. However, we installed a smaller tile in the top third of the shower. Monk's put in standard square shaped tile to the lower two thirds of the shower. Mixing up the size and shape of the same tile adds interest while keeping things neutral and constant.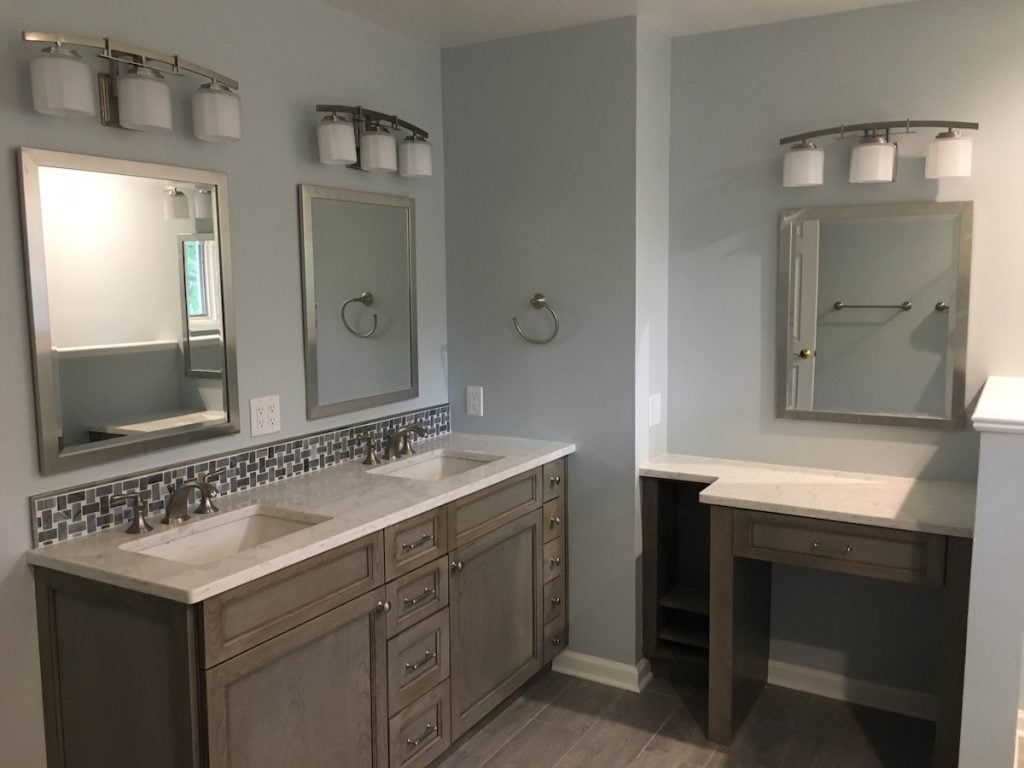 Grey spaces can look a little cold. One way to warm them up is to use natural materials, like we did with this double vanity. It has a driftwood color which adds warmth to the space.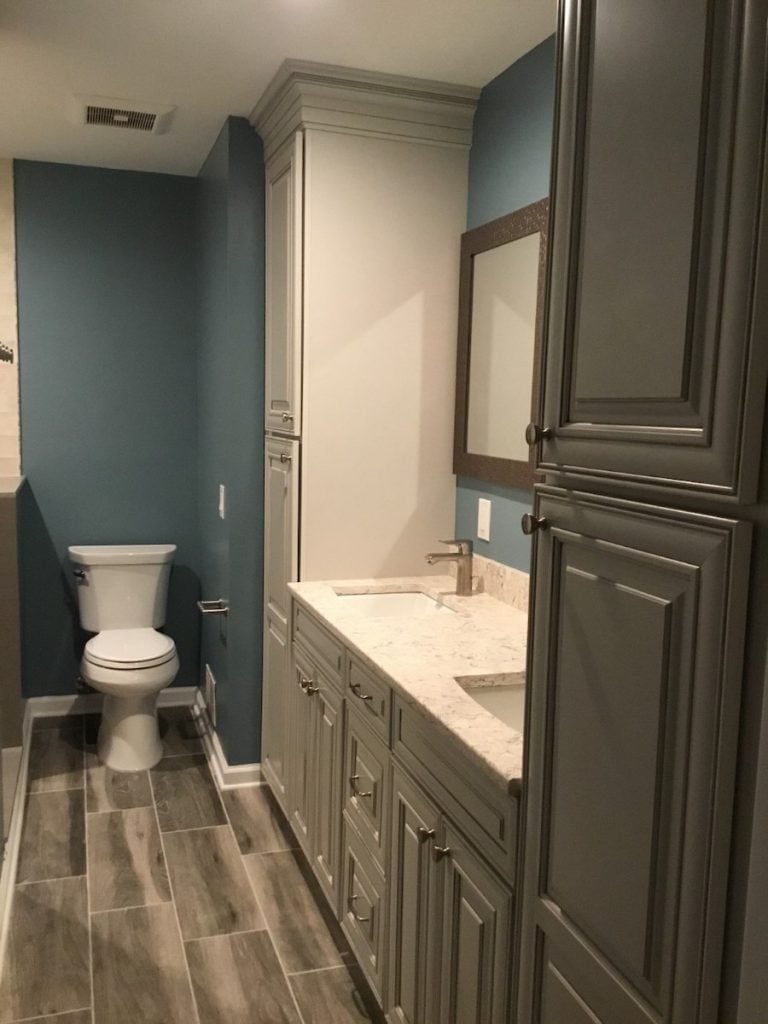 This neutral bathroom has lots of storage provided by two sections of floor to ceiling cabinetry. In this example you can see how painting the walls blue is a quick way to add a pop of color.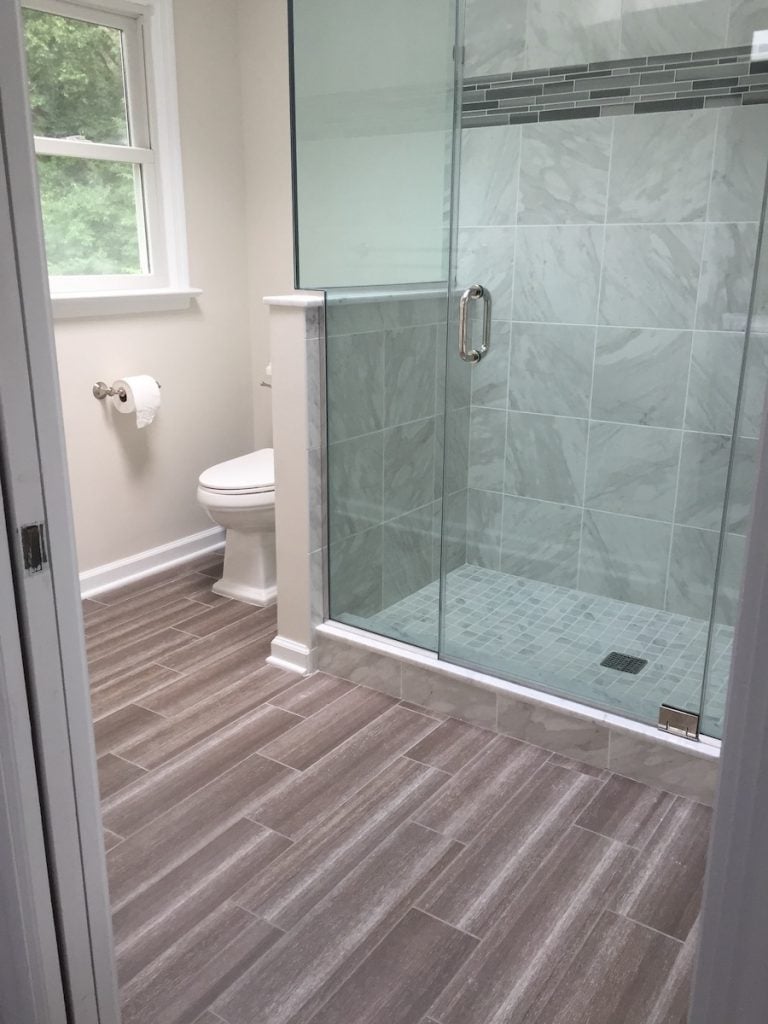 Another way to add the appearance of natural materials in the bathroom is by installing wood-look tiles. Faux wood tiles are most often used as floor tile. They come in a range of colors and textures. The floor tiles provide a nice contrast to the cooler tones in the stone shower.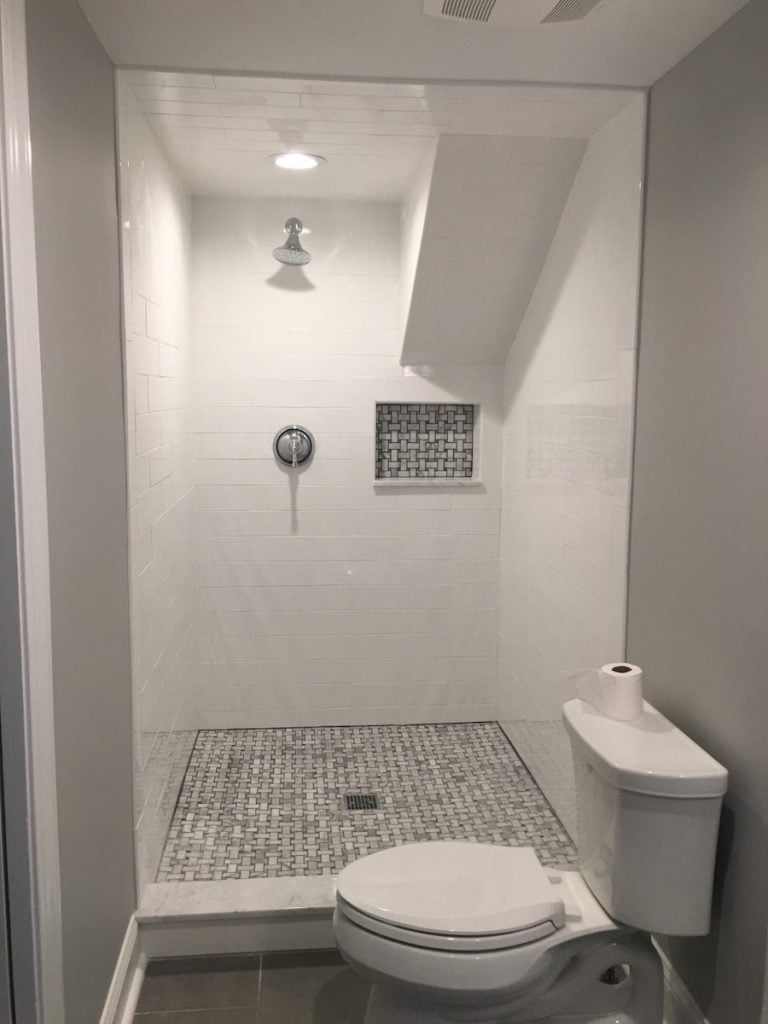 This third floor shower is nearly all white subway tile. We added a herringbone marble mosaic tile in the shower floor and in the niche. The herringbone tile ties into the rest of this grey and white bathroom.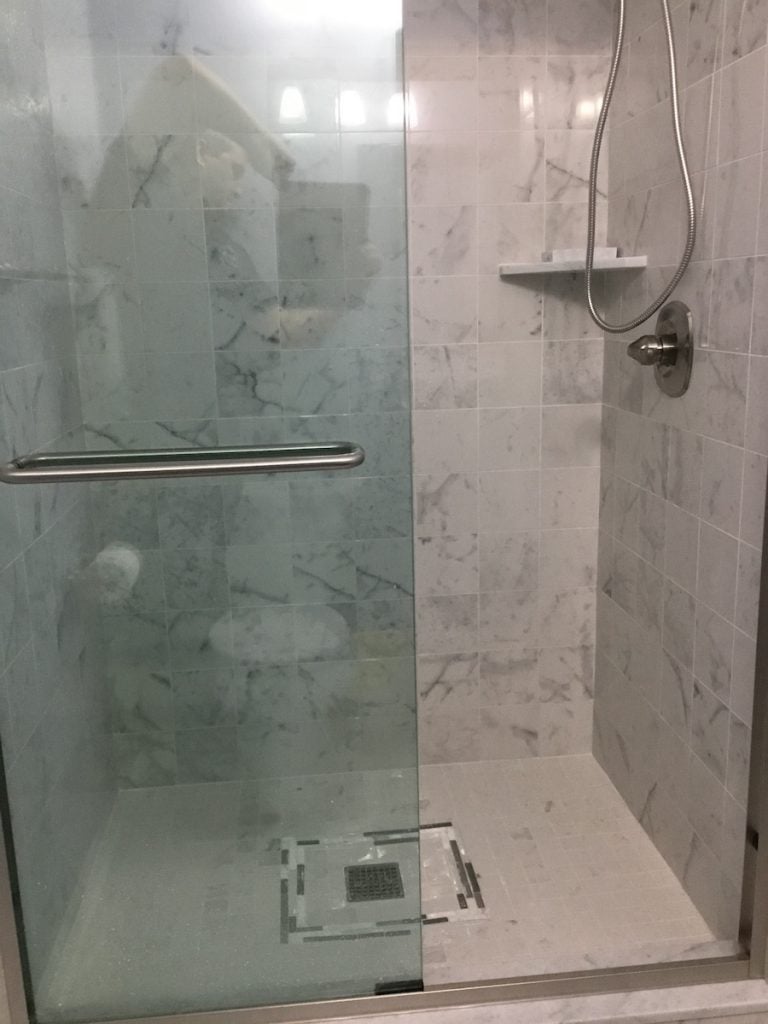 The timeless and lavish look of marble is an often used look in gray bathrooms. This shower uses a square marble look tile in this neutral master bathroom.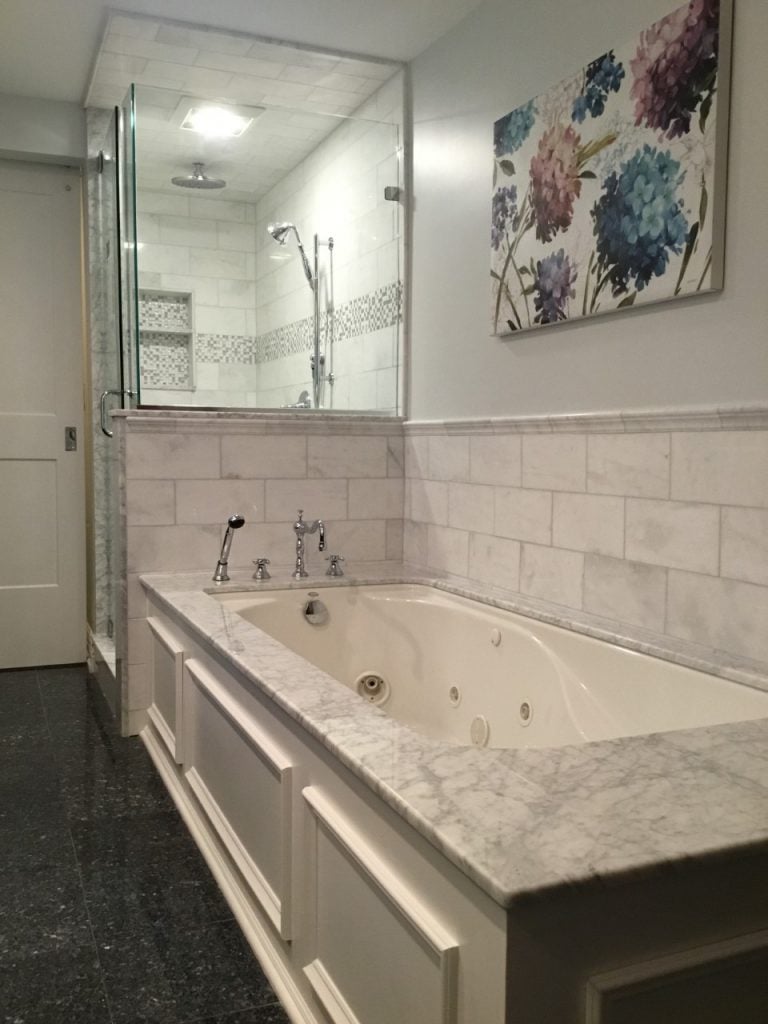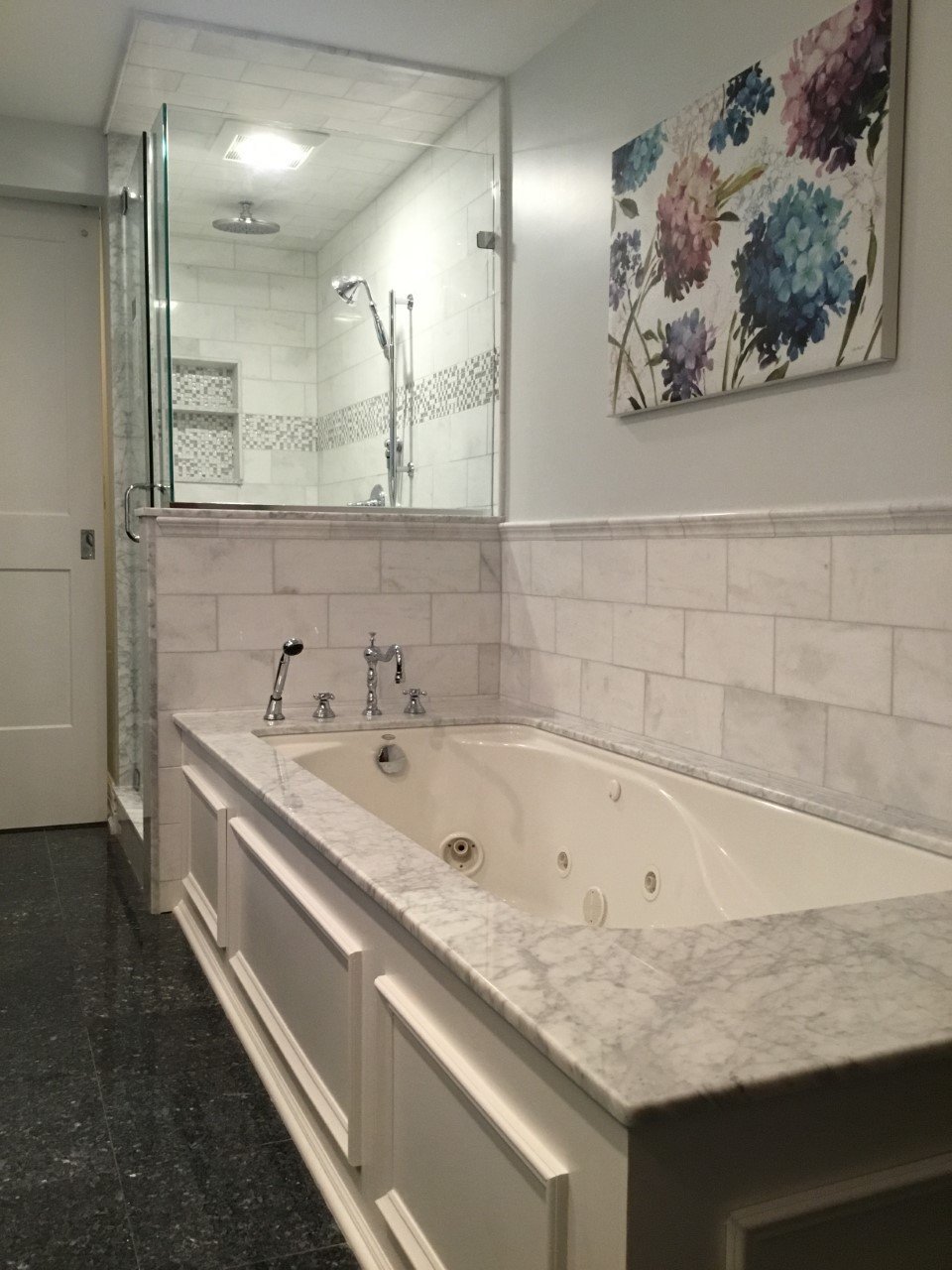 Natural marble tile is installed as a backsplash around the jetted tub. The marble matches the shower tile to provide a consistent, elegant look.
A Feminine Gray Bathroom
This large master bathroom has the benefit of having three large windows to provide natural light and a lovely view. We positioned a modern free-standing tub near these windows. We added decadent wainscoting to the walls. The large shower was given a modified shape to maximize the size without interfering with the flow.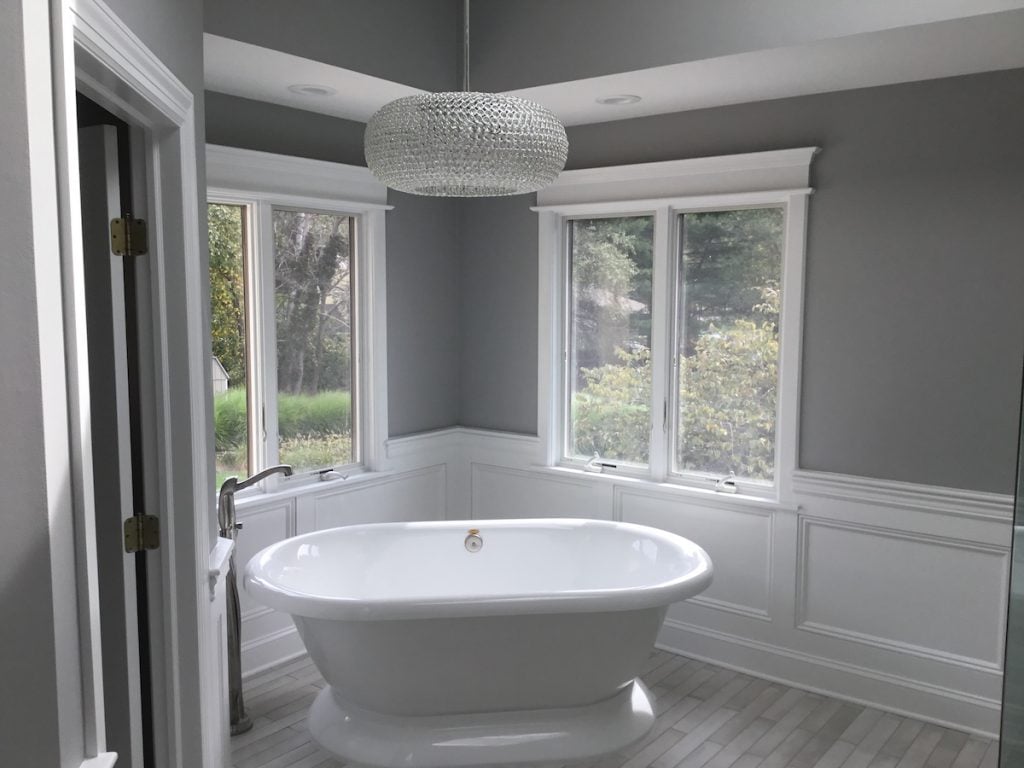 A white freestanding tub surrounded by windows and modern wainscoting. A feminine chandelier adds texture and interest to this neutral gray bathroom.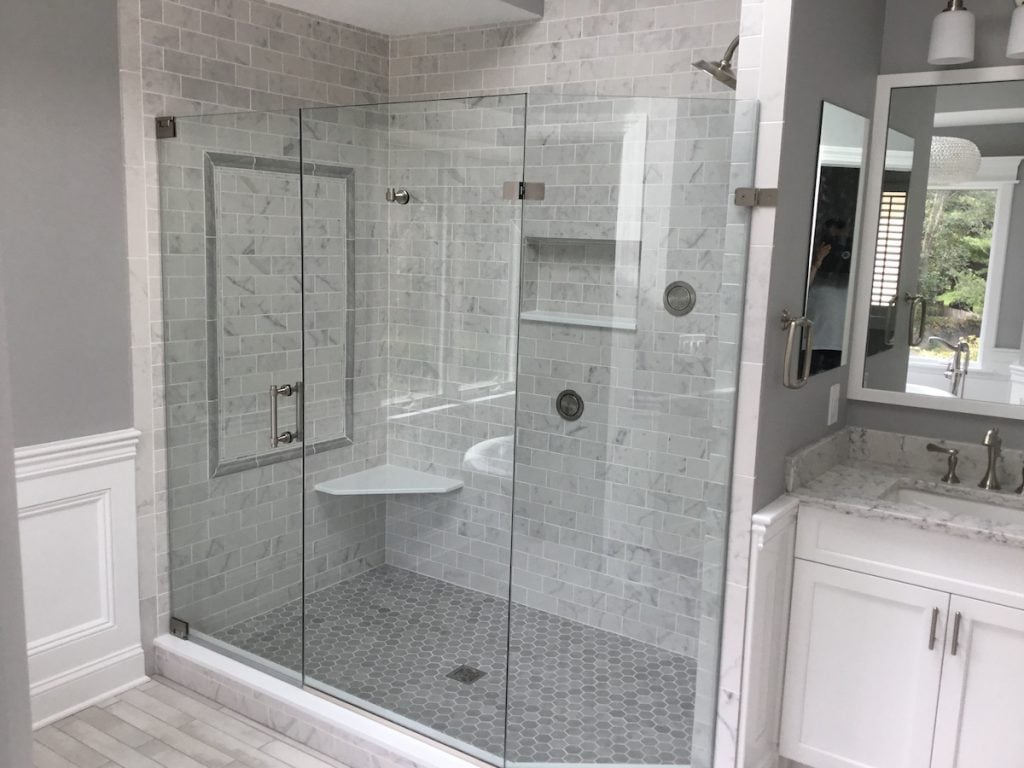 We also installed a large shower in this same bathroom. We laid marble tile, along with a decorative inlay on the back wall. A 3-panel glass shower door was used to keep the room light and airy.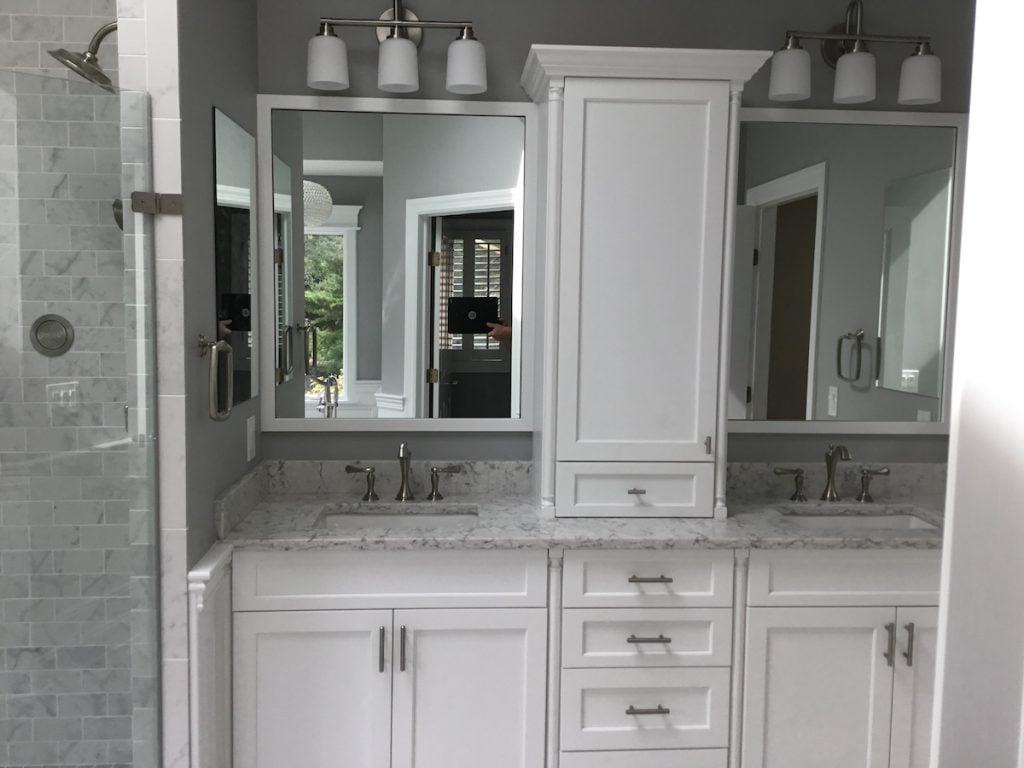 The double vanity was also a given a classic look using white cabinetry with a marble countertop.
Using Beige and Browns in the Neutral Bathroom
Though not as popular, designers can incorporate beiges and browns to create a modern neutral bathroom. Here are some ideas for using browns and beiges in your bathroom remodel.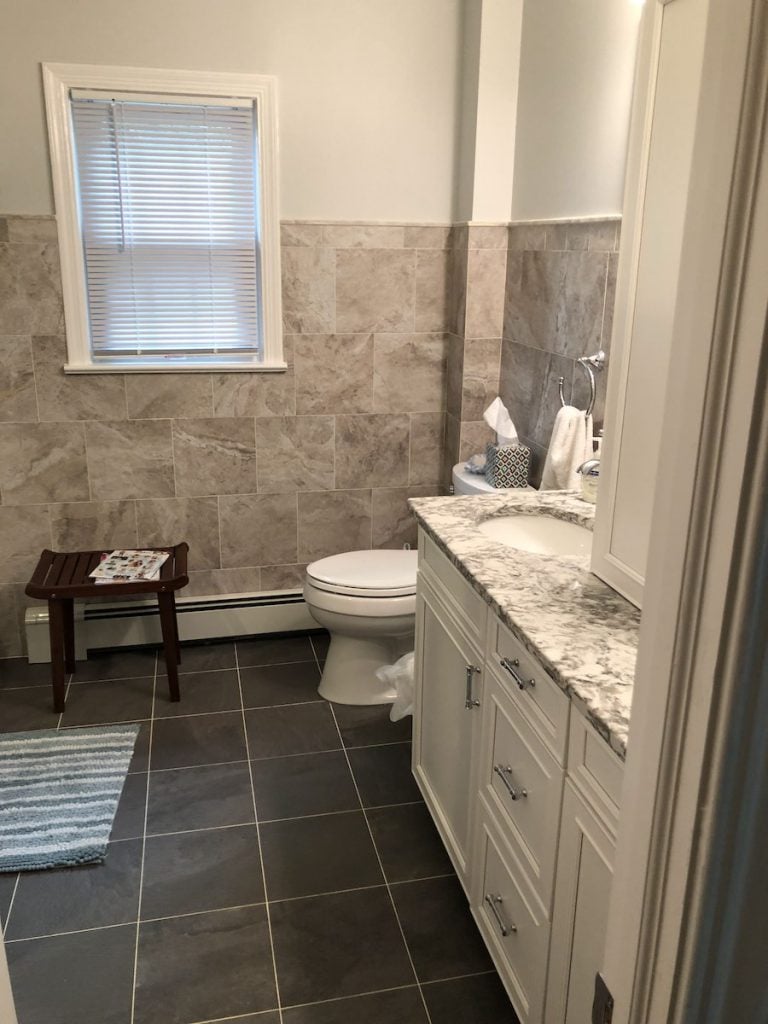 These marble-look wall tiles are swirls of beige. The quartz countertop is a blend of off-white, beige and brown.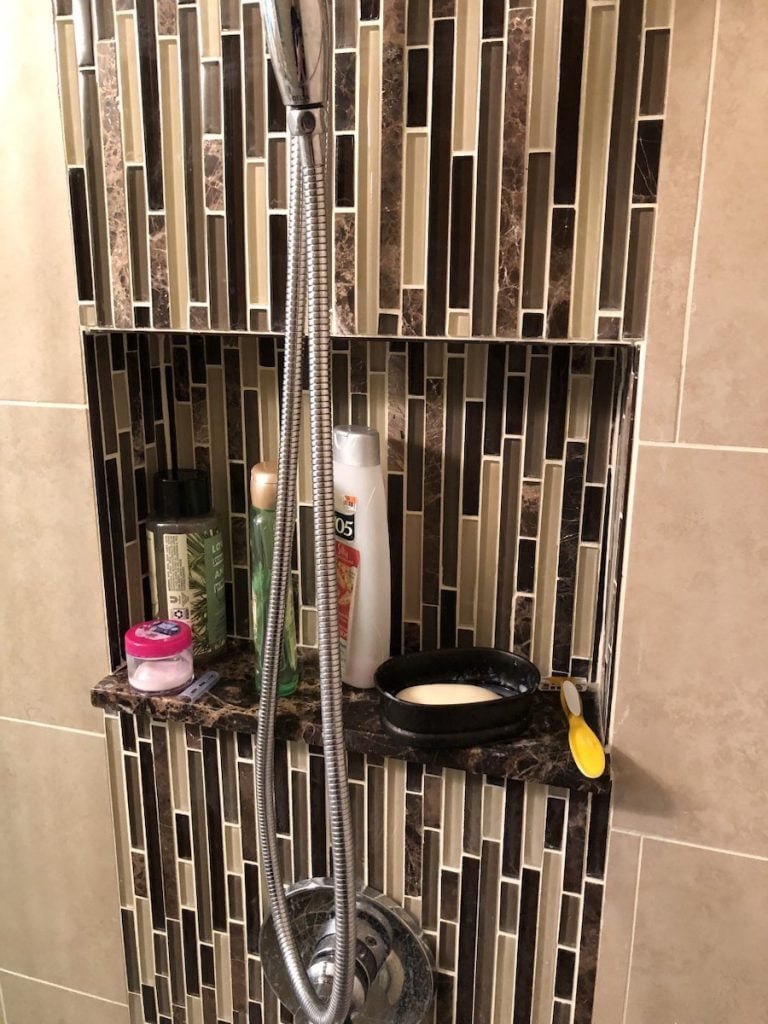 Large-format beige tile is accented with a waterfall of mosaic brown glass tiles.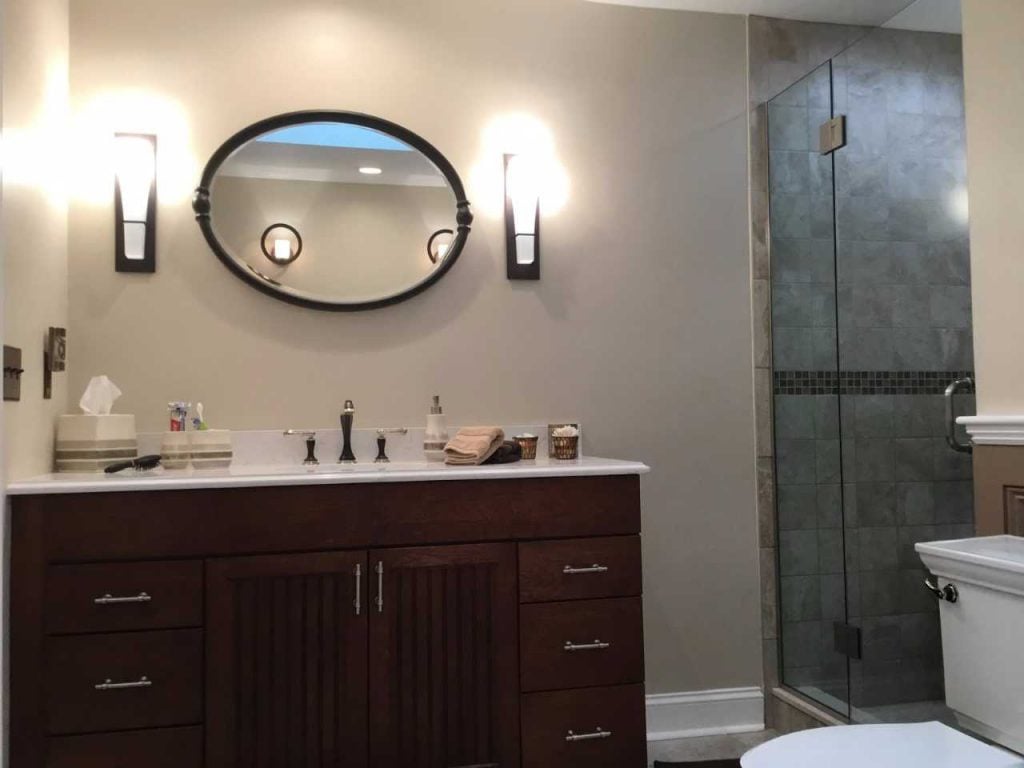 We installed wainscoting in this bathroom and painted it brown. A deep brown vanity was installed with a matching round mirror.
For more bathroom ideas, see our Shower Tile Ideas and Trends and learn about our tile installation and bathroom remodeling process.
Did you know that Monk's has two kitchen and bath showrooms staffed with a team of Designers? They will work with you to layout your bathroom and select and coordinate all your materials. Plus, design services are complimentary.