[ad_1]

This hall bath remodel was a long time coming! So glad to have this light, bright and airy space that is finally guest-ready! 
Yippee!
I am finally revealing the last room to be remodeled in this house! All of the major remodels are now done. I can't believe I'm even saying that. lol
It's been a very (very!) long time coming. It will be 18 years in June that we have lived here. That's a long time to be working on a house, y'all. ha!
We do have a few things to finish up over in our bedroom but we are planning to get back on that soon. (just small finish type stuff)
AND we plan to turn one of our bedrooms into a guest bedroom. (it's currently our "stock" room for the store but we have plans to move that elsewhere) I'll be sharing the guest room as we do it so stay tuned for that.
And yes, if you were wondering because I've mentioned it a bunch, we are still planning to sell and move. Unfortunately, we found nothing in the last year+ that we loved enough to move into. We have been looking the whole time! We want certain things and just never found them all in one house. We may end up purchasing land and building in the future so for the time being, we are going to settle back into being here and letting it go for a bit. That's okay, it gives us a chance to enjoy all the work we've done in this house (and maybe do even more…you know us!! lol)
But today, it's all about this hall bath remodel. I am thrilled with it!
Hall Bath Remodel Reveal
Okay, so you may be wondering why it says "x2" up there. That's because we actually gave this hall bath a mini-makeover soon after moving in. Sort of how we gave our kitchen 2 mini makeovers before giving it the full remodel we did recently.
Let's start at the very beginning, shall we?
Brace yourselves, haha, these photos were NEVER meant to be seen by anyone except my husband! I  took these photos (back in 2004) for him because he was working out of town at the time and I called him and said guess what I'm doing?? (pulling down tiles and getting it going!) So I snapped a few photos for him.
So, they are a mess. We had moved in recently and stuff was just everywhere…and I was already tired of looking at that dated bathroom and loose tiles ready to fall from the wall.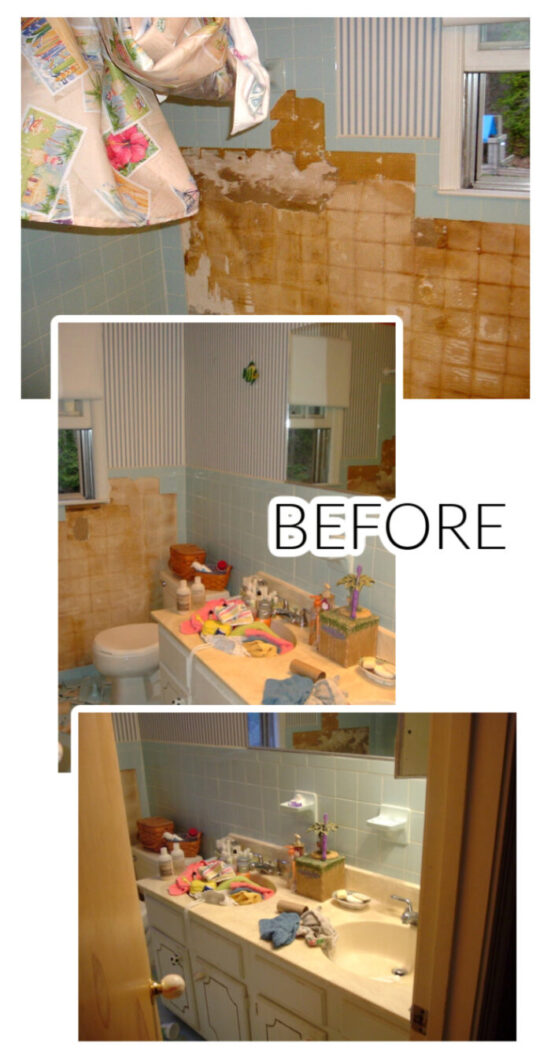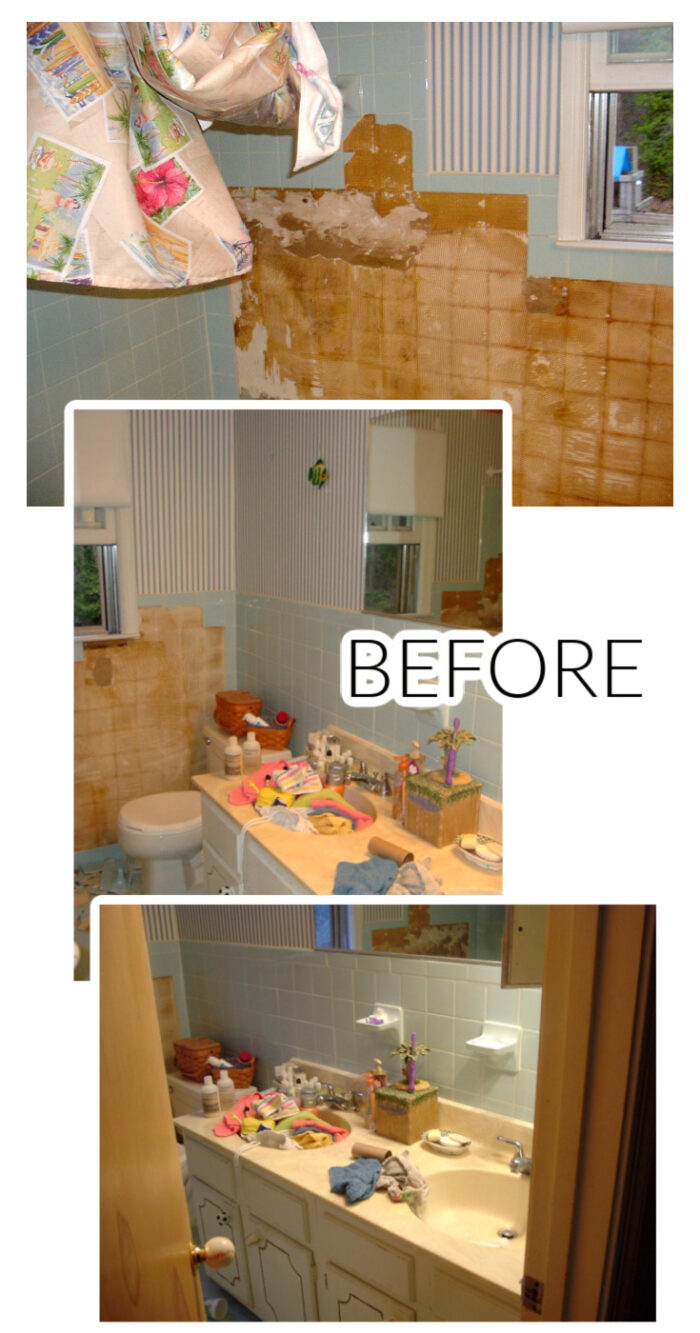 And then this is how it went after that…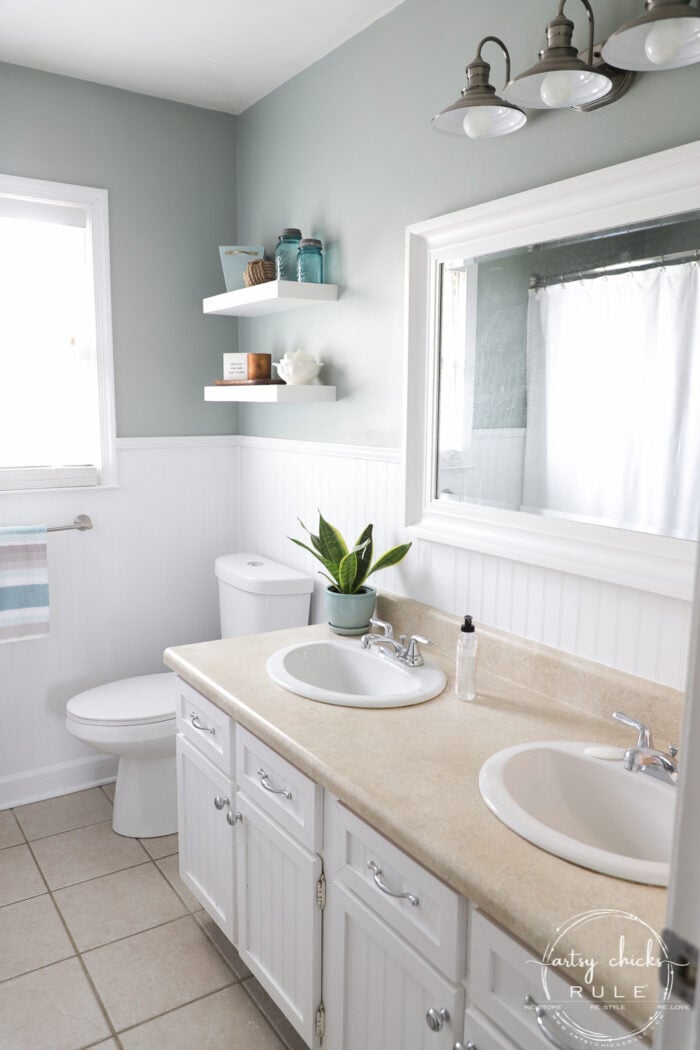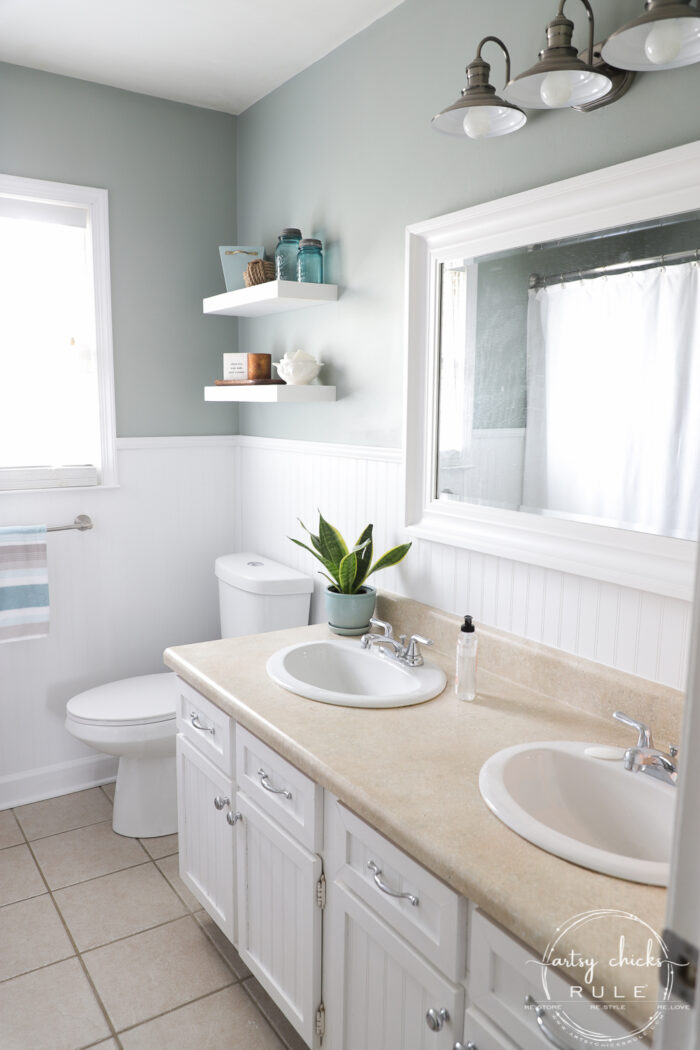 Not bad at all!
We actually pulled up the old blue tile and laid this super boring (and neutral-our thinking at the time) builder-grade type of ceramic flooring. haha
For the cabinet, we simply made new doors and I painted the whole thing.
The countertop is one of those laminate ready-mades you can buy off the shelf at Lowe's or The Home Depot.
The sinks were like $20 bucks each and we reused the faucets that were here.
We put up beadboard where the blue tiles had been.
New light fixture (this is actually the newest one, we had a previous "new" one for years before this one)
New mirror.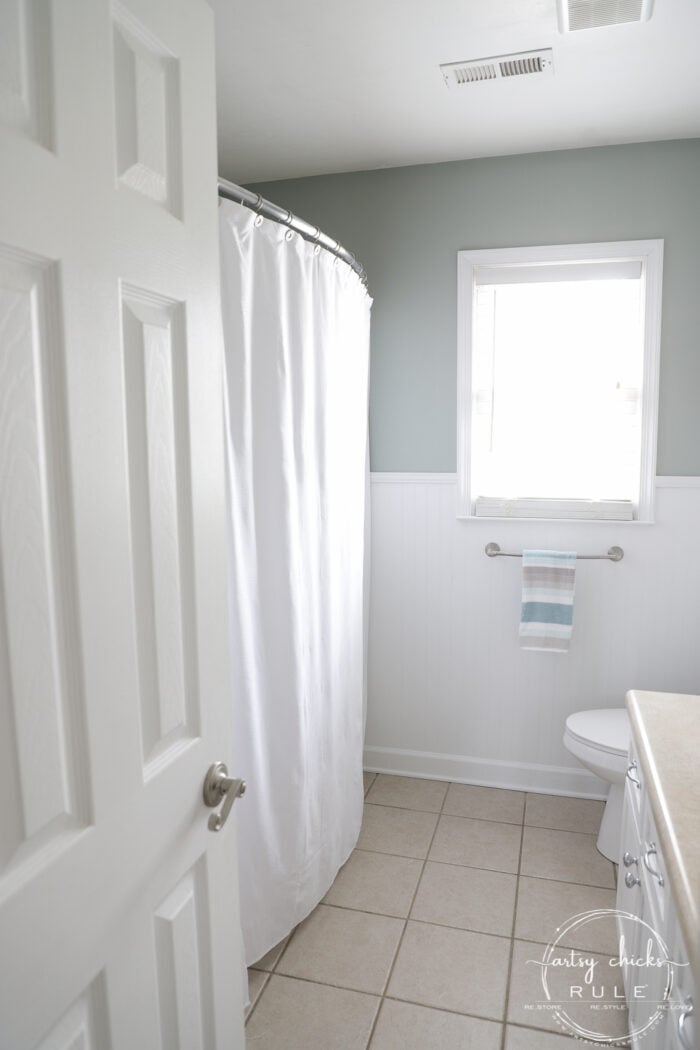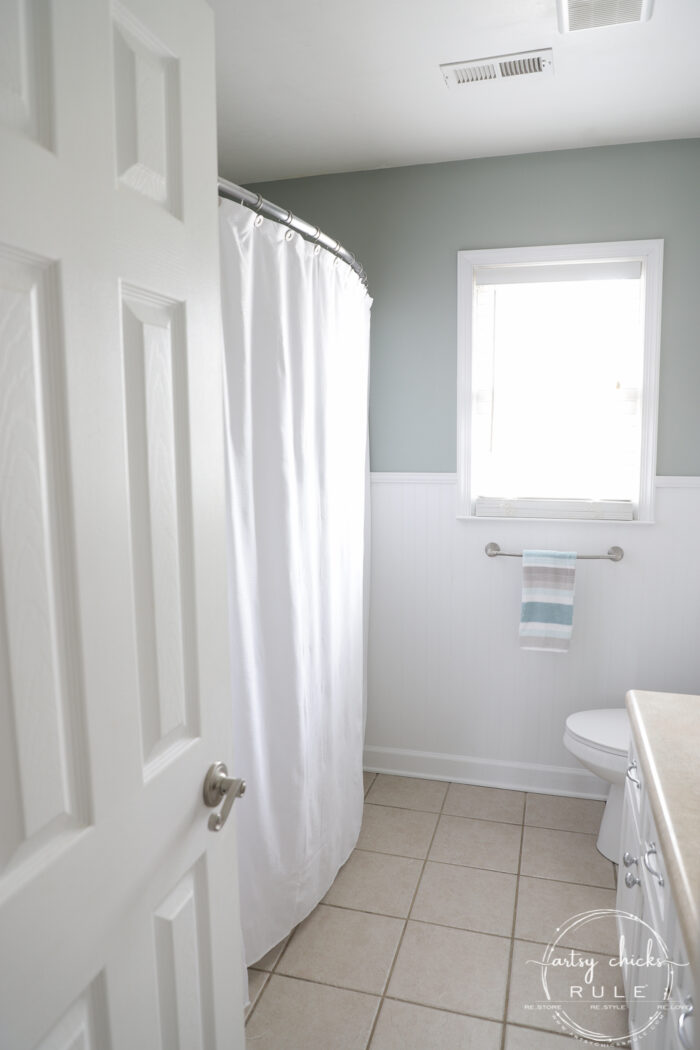 Really not bad at all but the cabinet was really showing age and needed to go.
I was also very tired of the laminate countertop and sink situation. And the bathtub and surround needed attention.
It was just time. 
However, I really, really did not want to pull up all that tile or pull out the tub.
And we had considered replacing the beadboard with shiplap as we did in the downstairs guest half bath that we had also previously added beadboard to on an earlier makeover.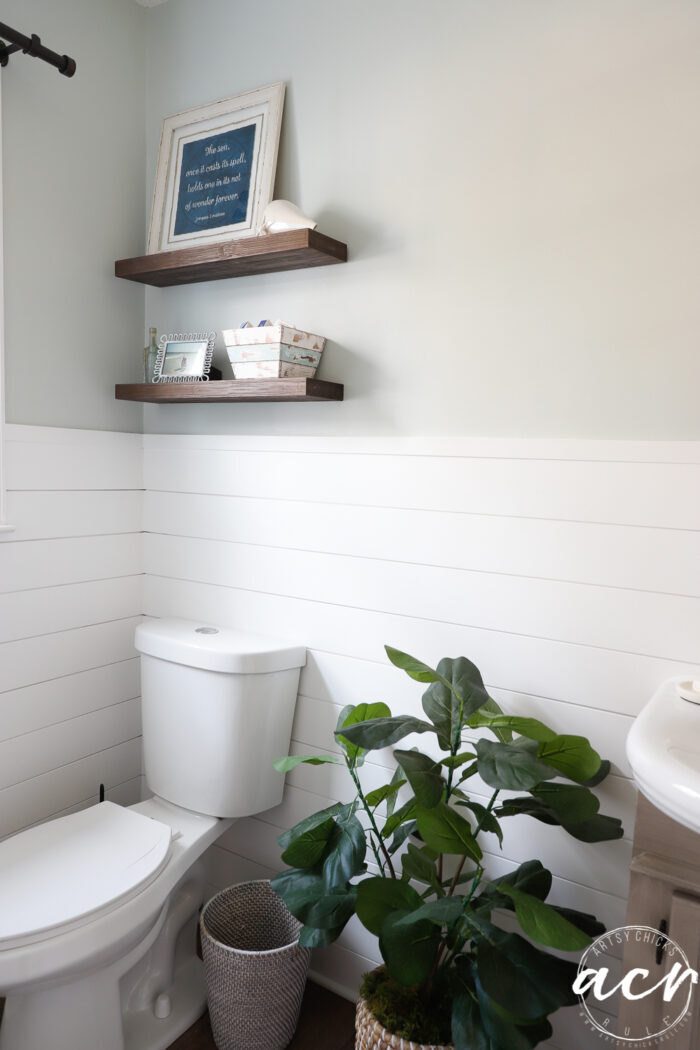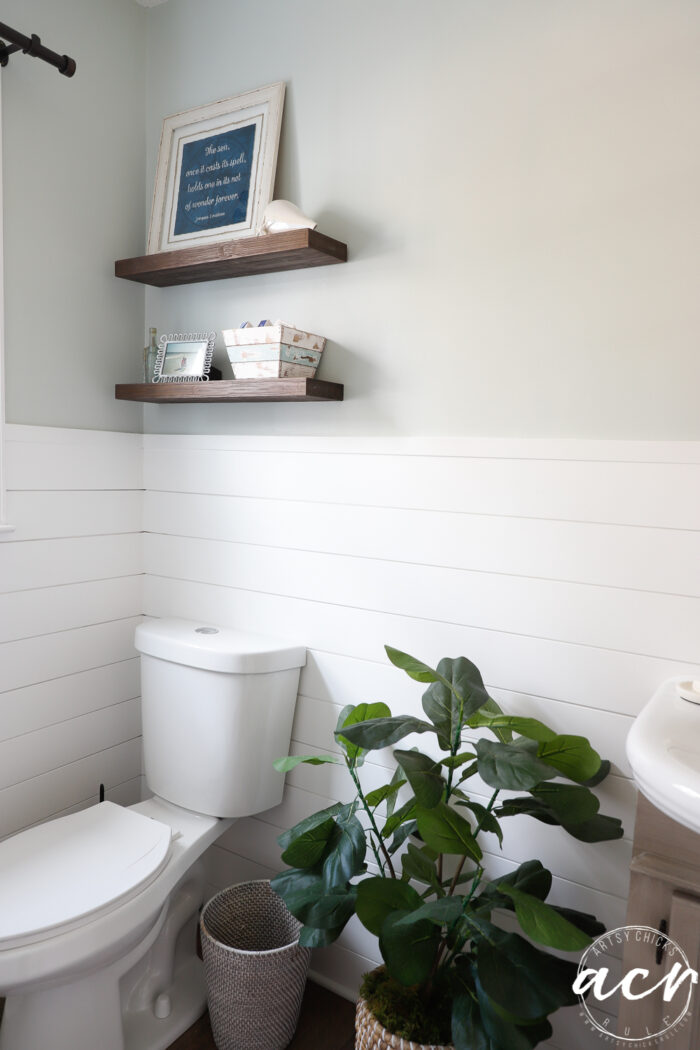 You can see this whole makeover, here.
So we didn't do either. 
I just gave the beadboard a fresh coat of paint and well we did the same thing with the tub. We subbed that reglazing out to a professional though because we wanted it to last.
It looks amazing!
Are you ready to see the reveal now?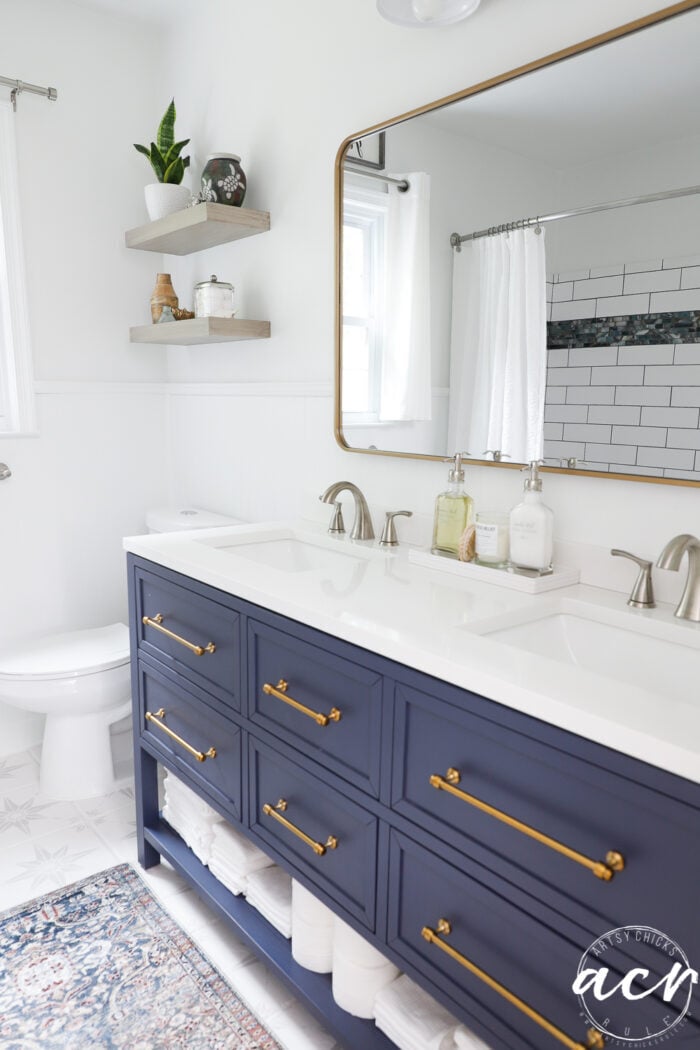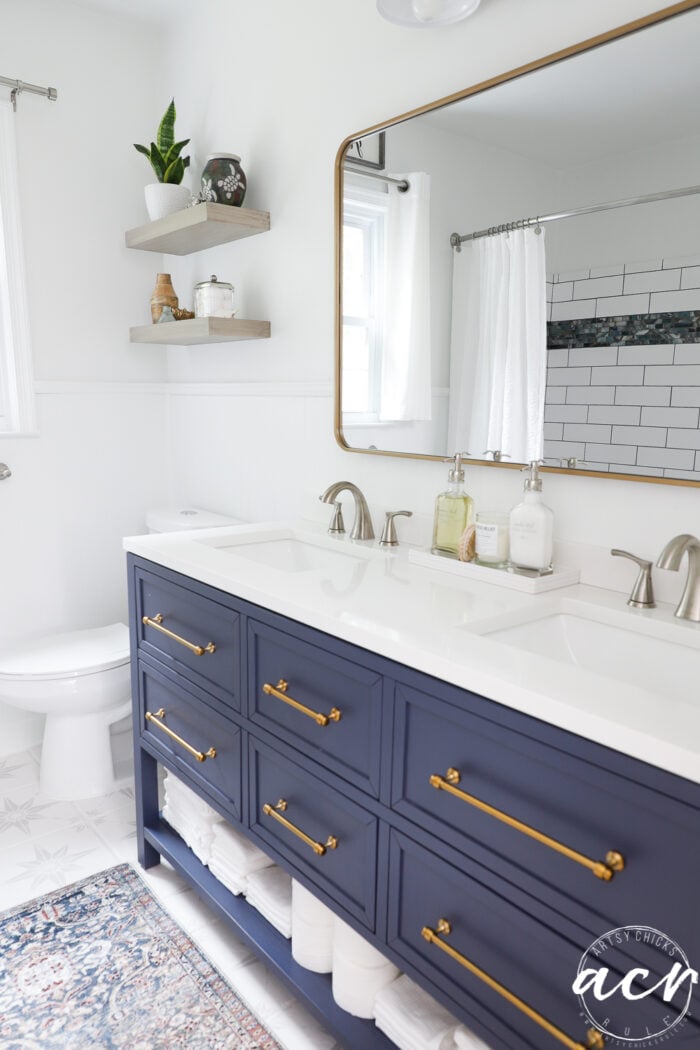 Now, if you remember, I had a different vanity cabinet picked out. I ordered it and weeks later was told it would not be available. So we had to switch gears. And by switching to a blue cabinet we had to really switch gears on the whole design.
But I'm thrilled with the change!
As a refresher, here is what I originally had planned.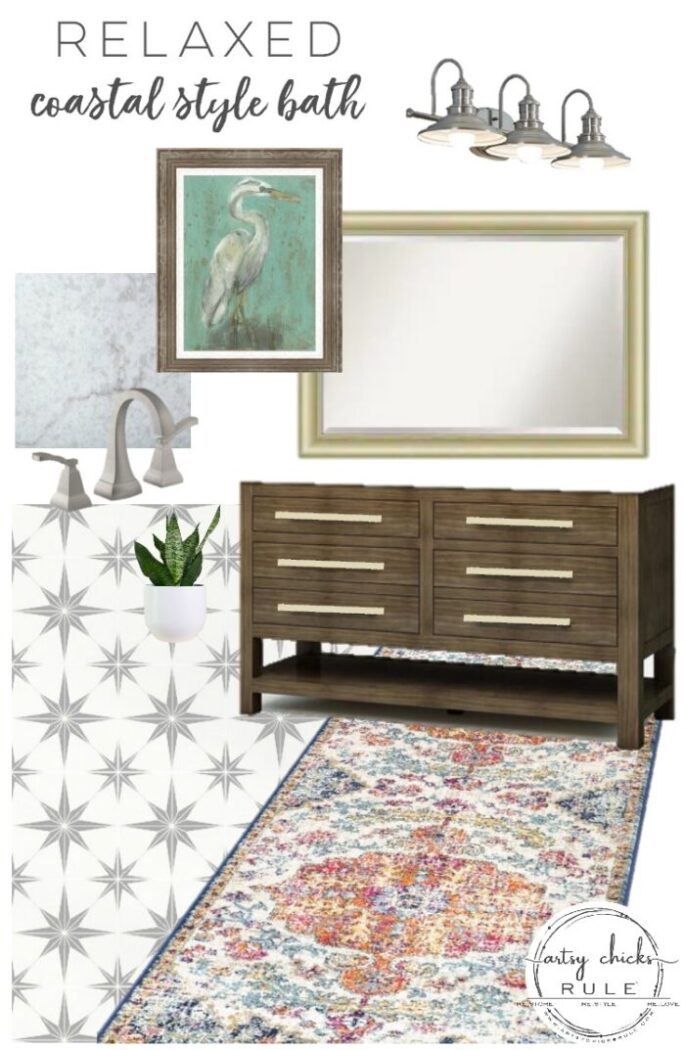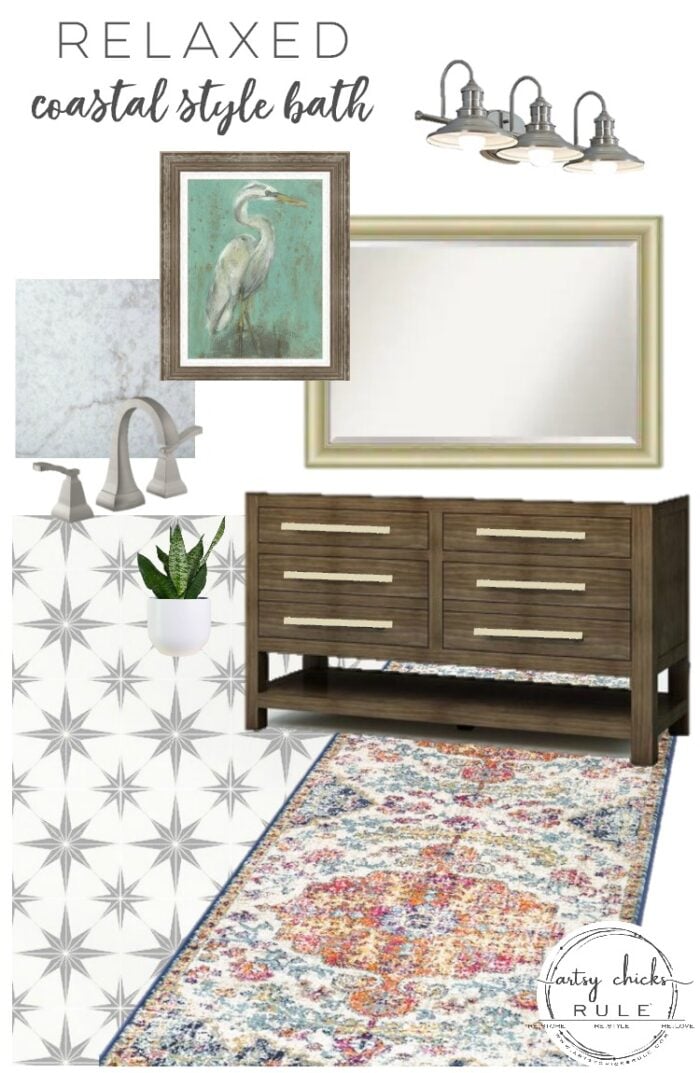 Similar (same floor style) but with tweaks everywhere else.
By the way, I'll have a full list of sources for everything at the bottom of this post.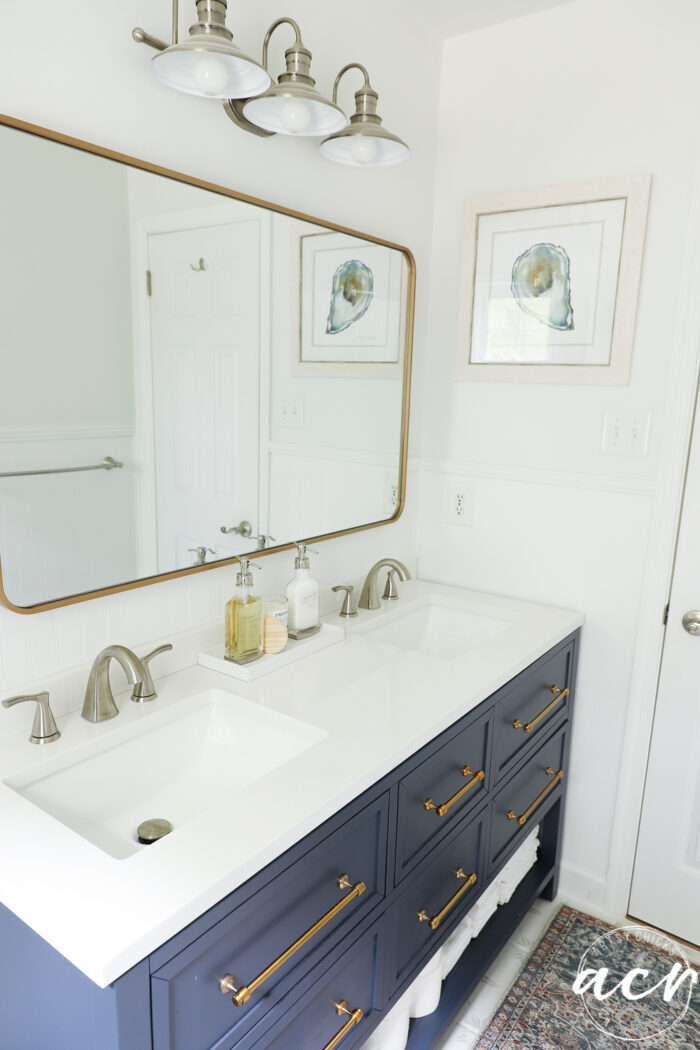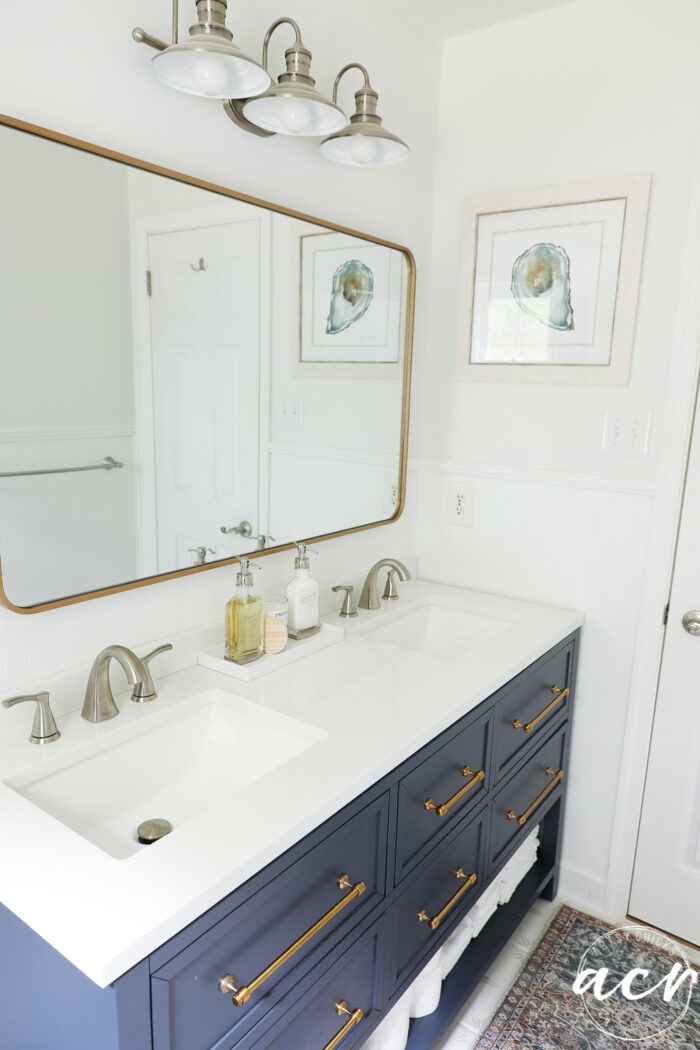 Same lighting…we replaced it a few years ago.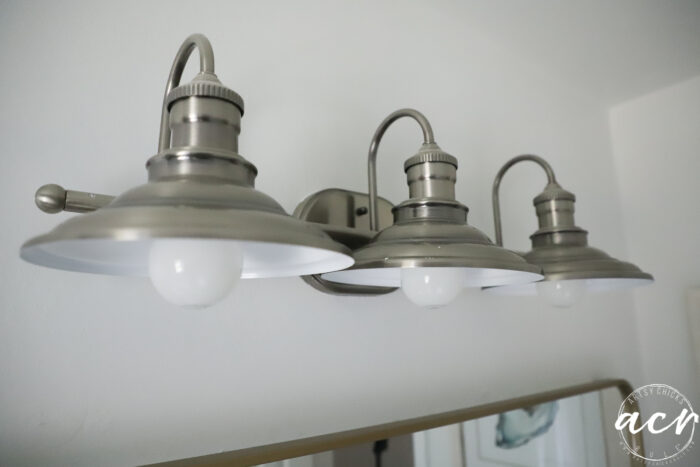 Found this pretty print at The Cotton Gin in the Outer Banks last weekend.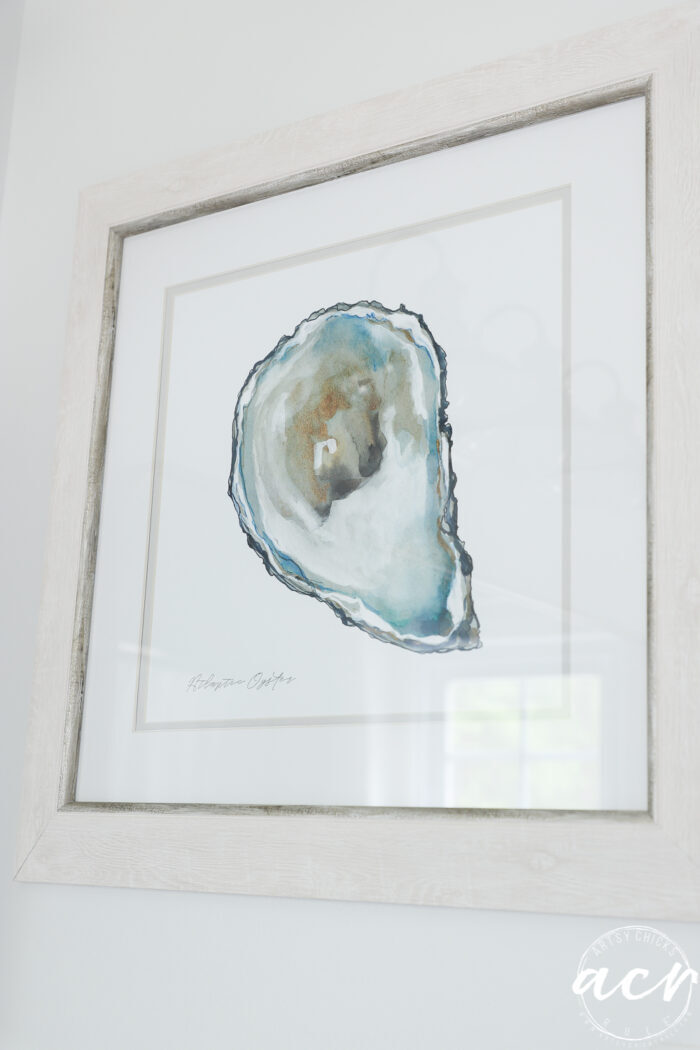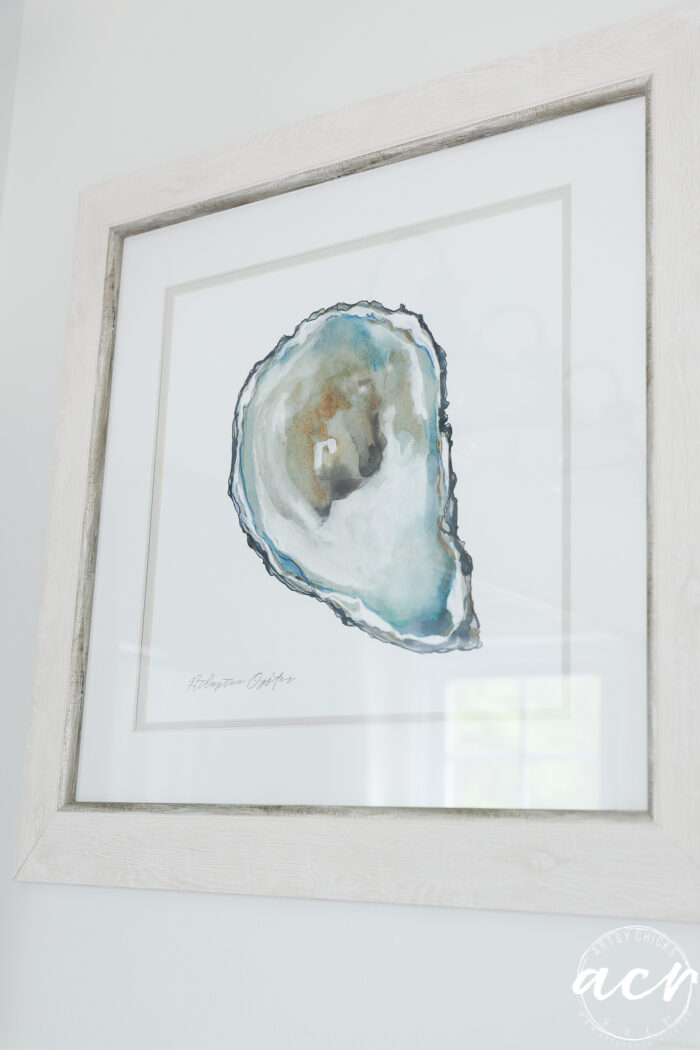 And if you follow along with me over on Instagram, you might remember me talking about this rug.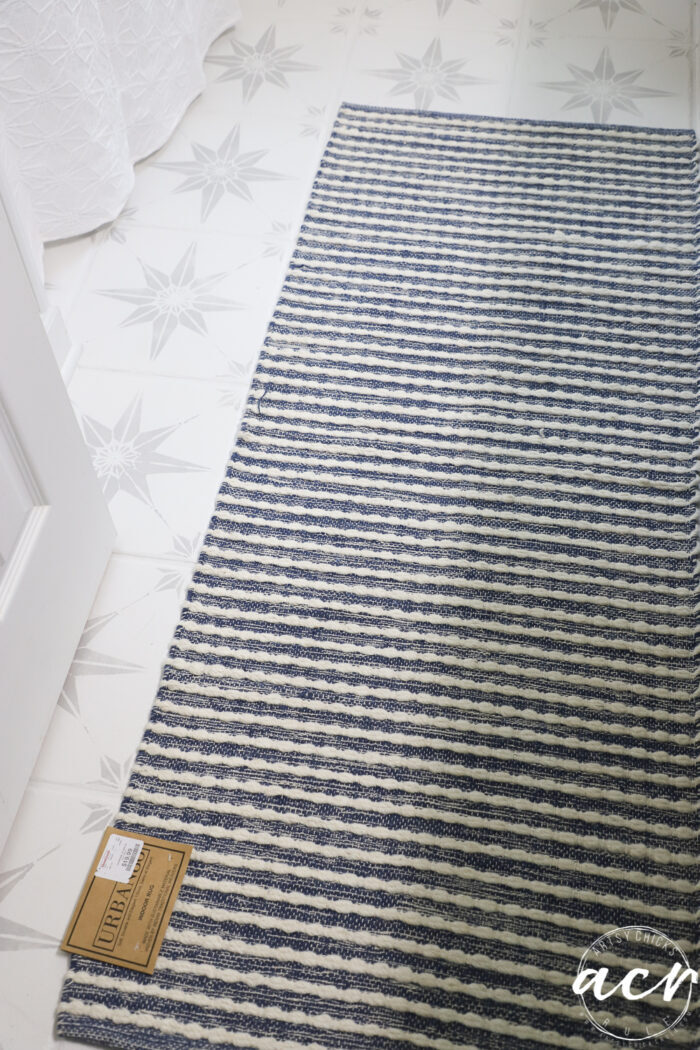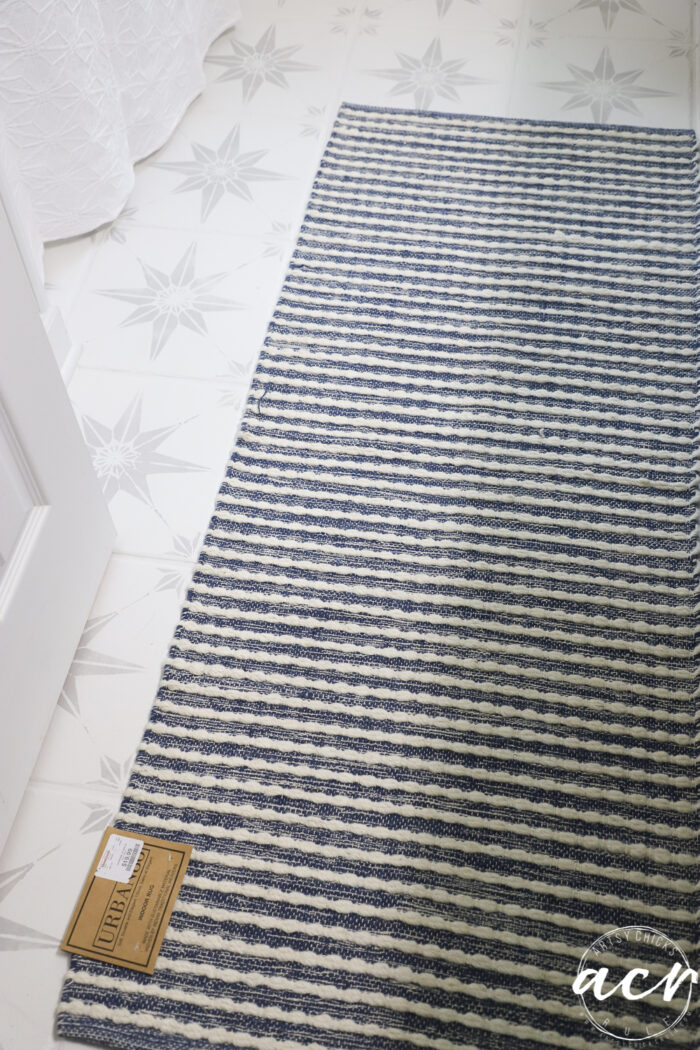 Nice rug but not at all the look I was after once I got it in there.
It's hard to find a 2×60-inch rug. Very hard!
But I went looking online again and found this one…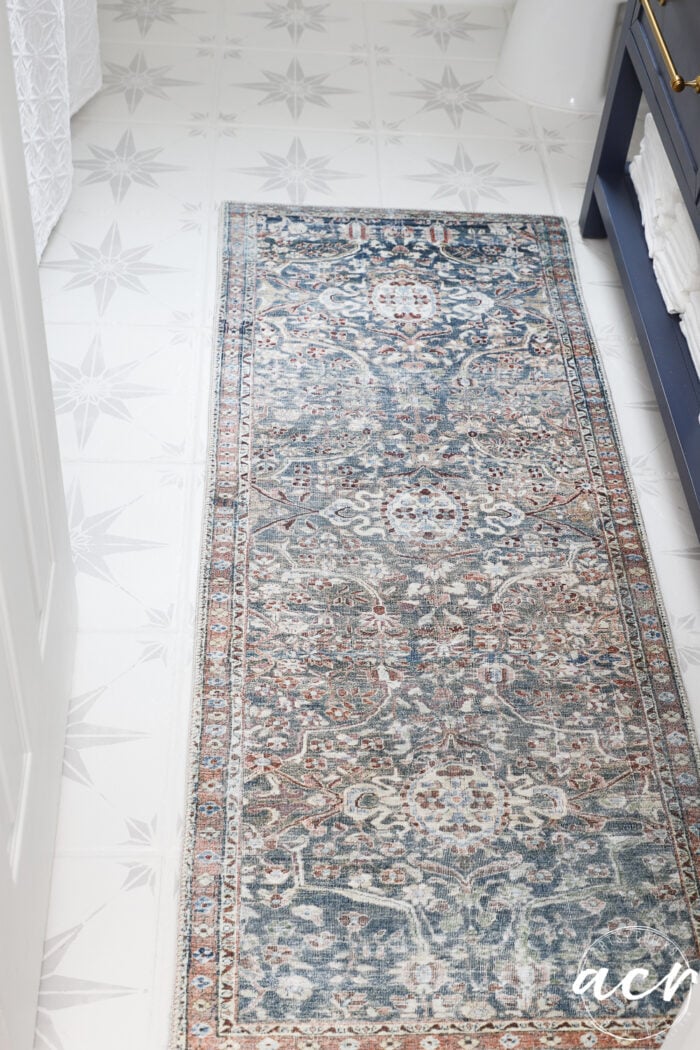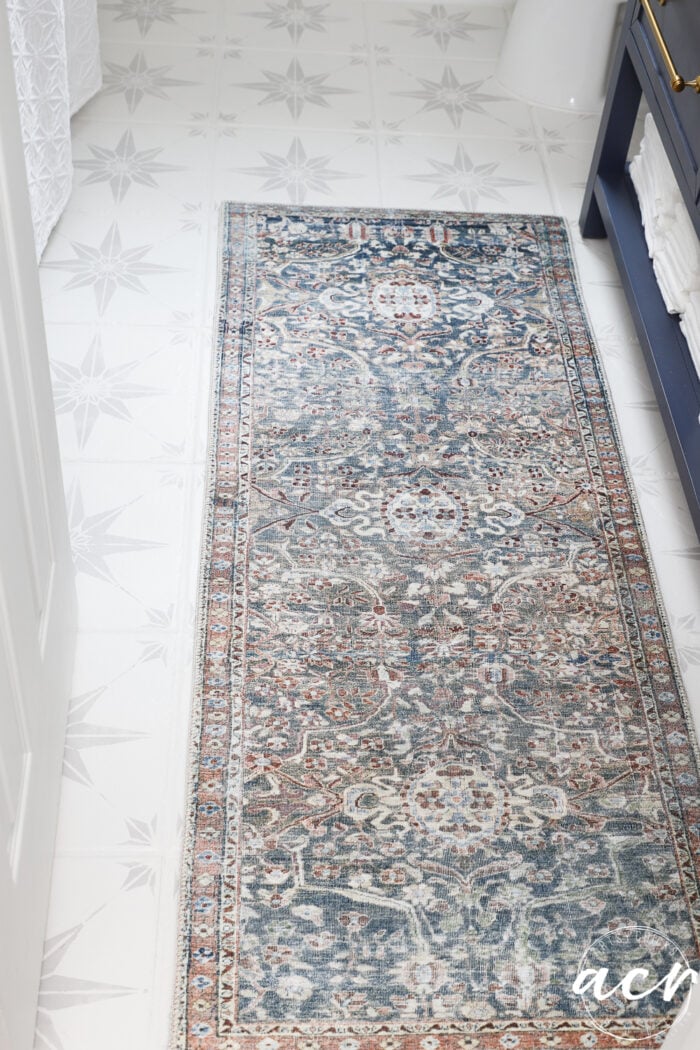 Yes, yes, yes, this is the look!! I absolutely love this pretty rug.
Goes perfectly. Just look at those colors…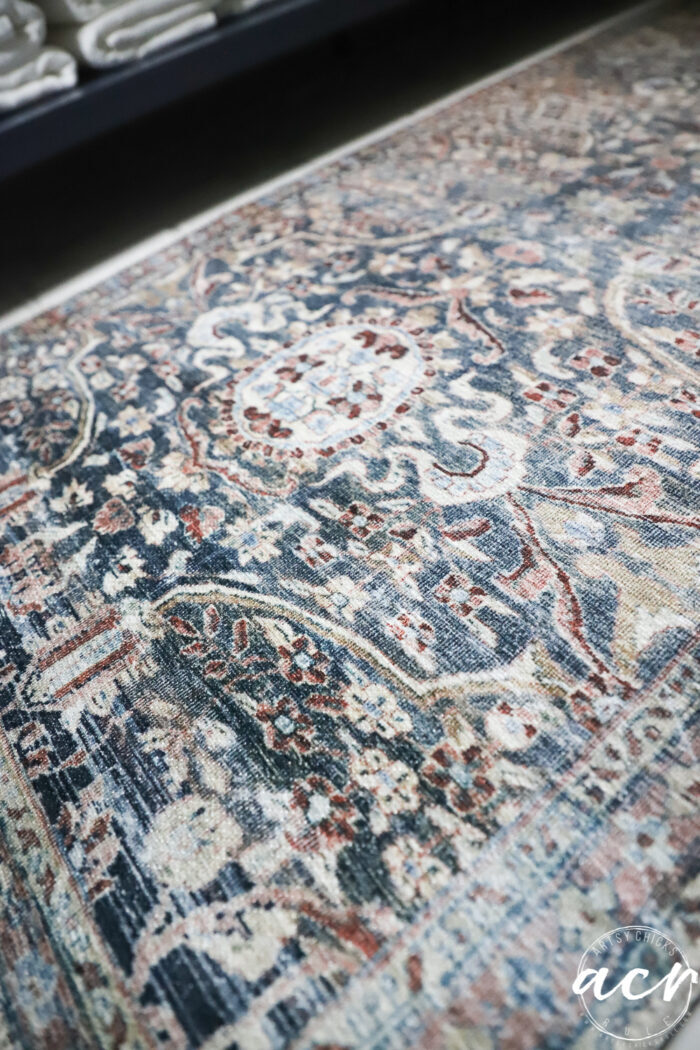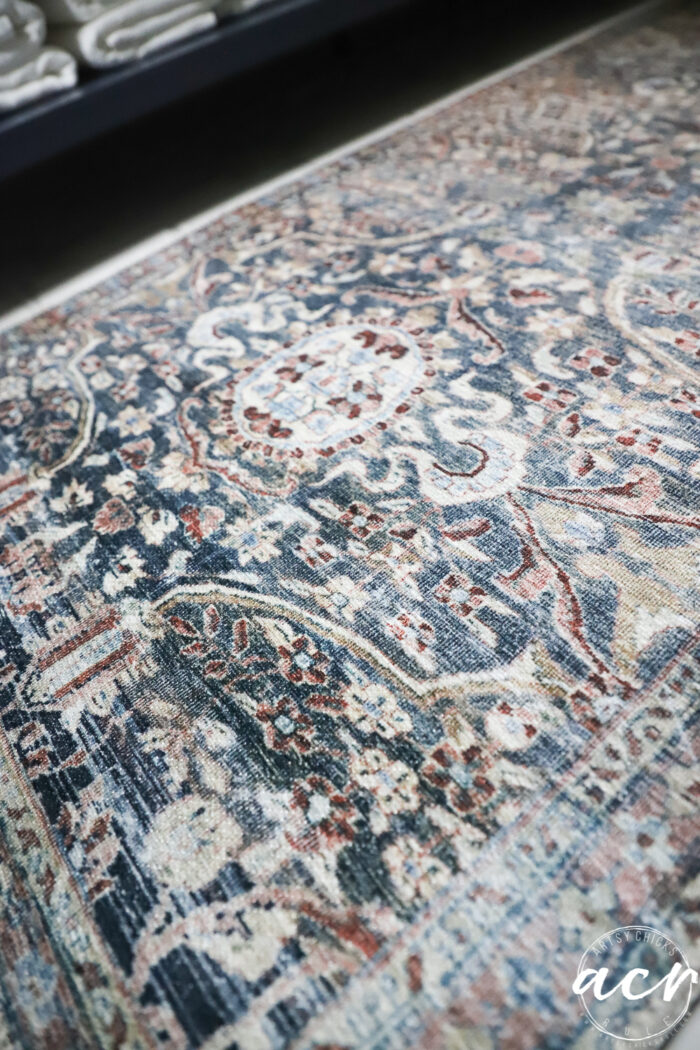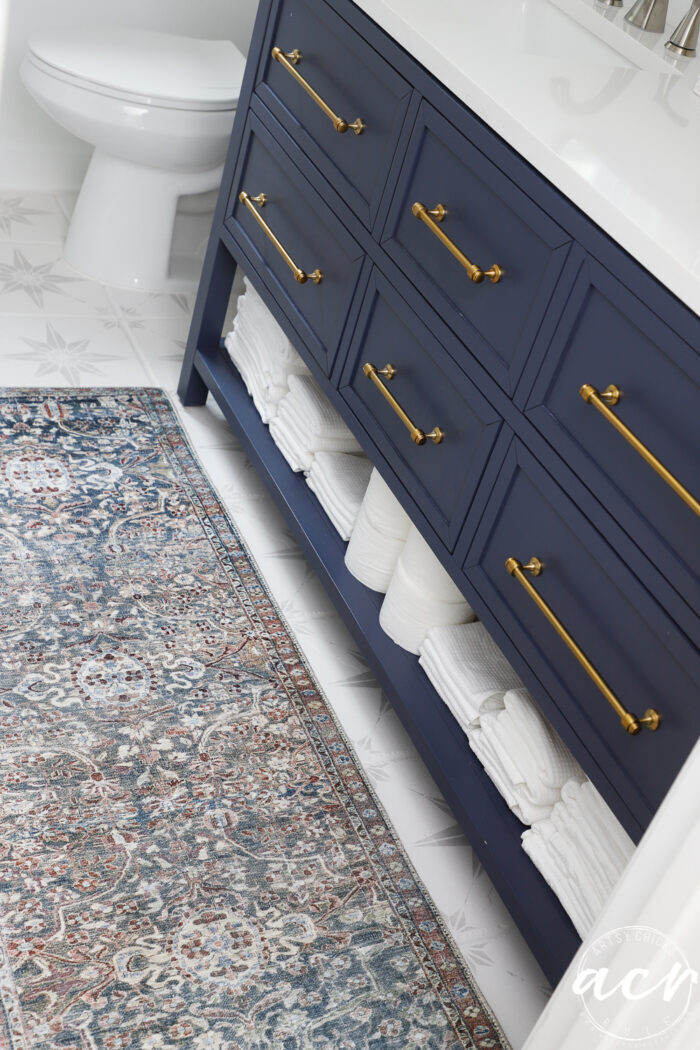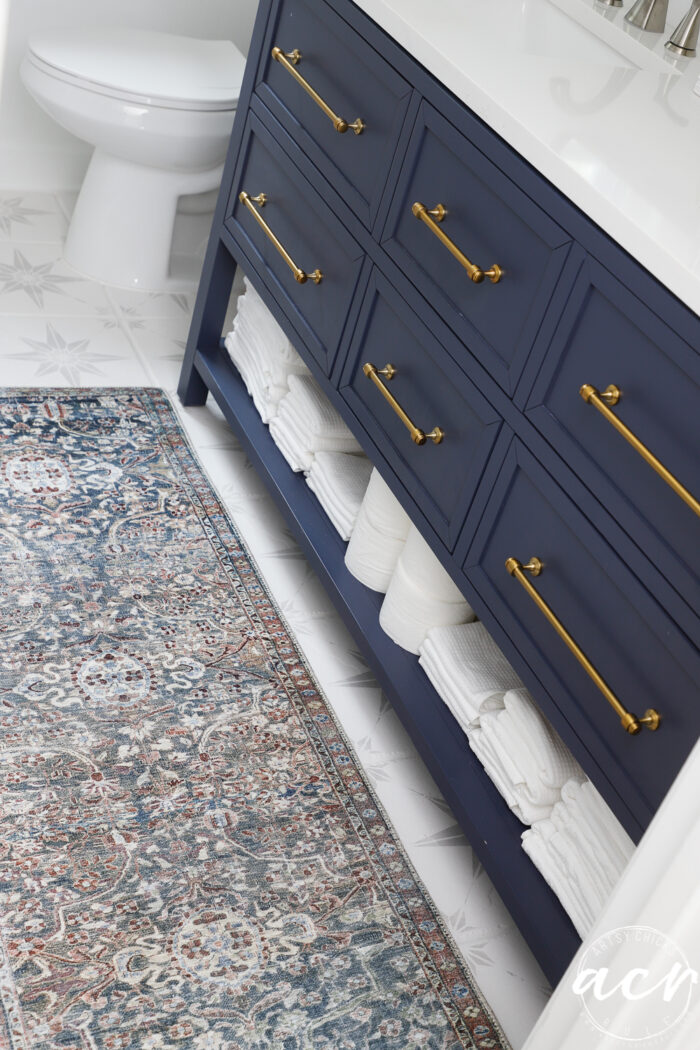 I love the color of this bath cabinet too. It's such a luscious color! Blues are my favorite anyway so it's a definite win.
The open shelf on the bottom of the cabinet is great for storing guest towels, hand cloths, washcloths, and extra toilet paper so they don't have to go looking for those items.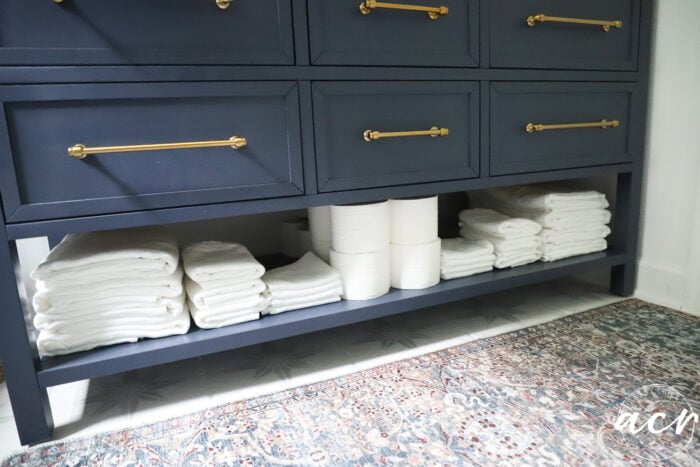 Having all drawers is a plus too. I always choose drawers over cabinets any day.
This particular bath vanity came with gold AND brushed nickel hardware. I chose to use gold. (but it's nice to have the brushed nickel for other projects down the road!)
I did, however, choose brushed nickel for the faucets to go with the light fixture and towel racks in here.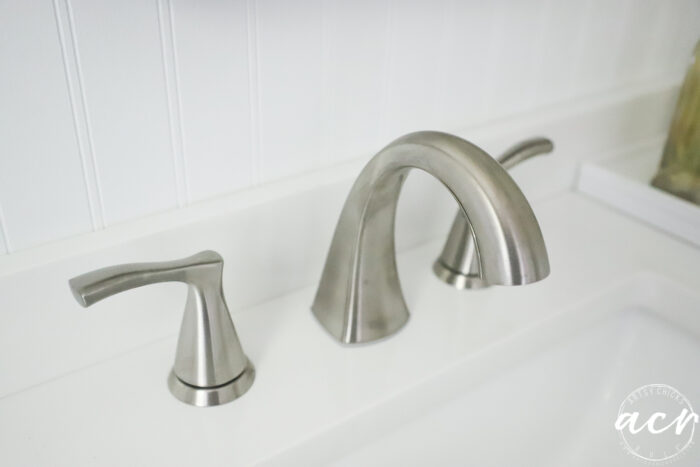 I love to mix metals, keeps it interesting.
The mirror in gold… (I actually ordered the silver color but hated it so painted it gold)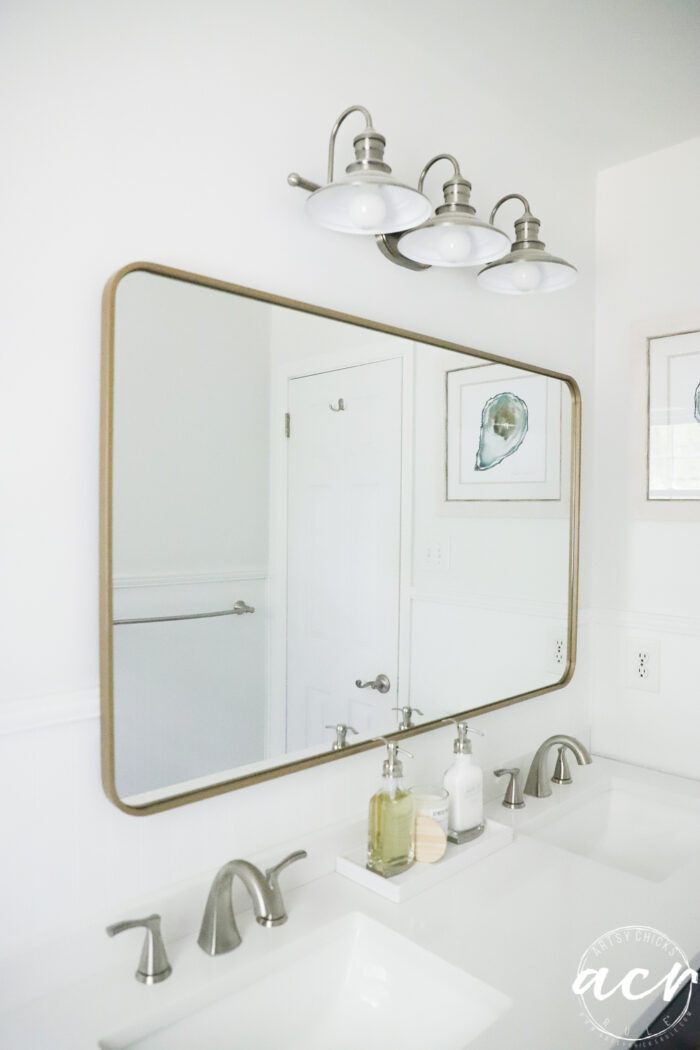 It's the same mirror we used in our downstairs bath refresh…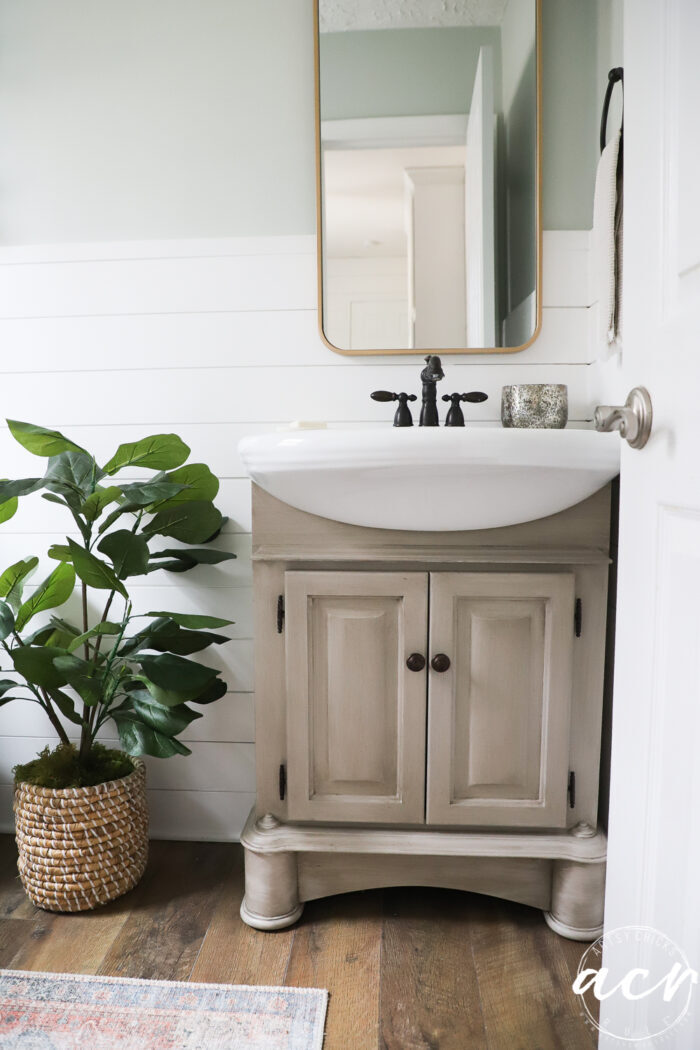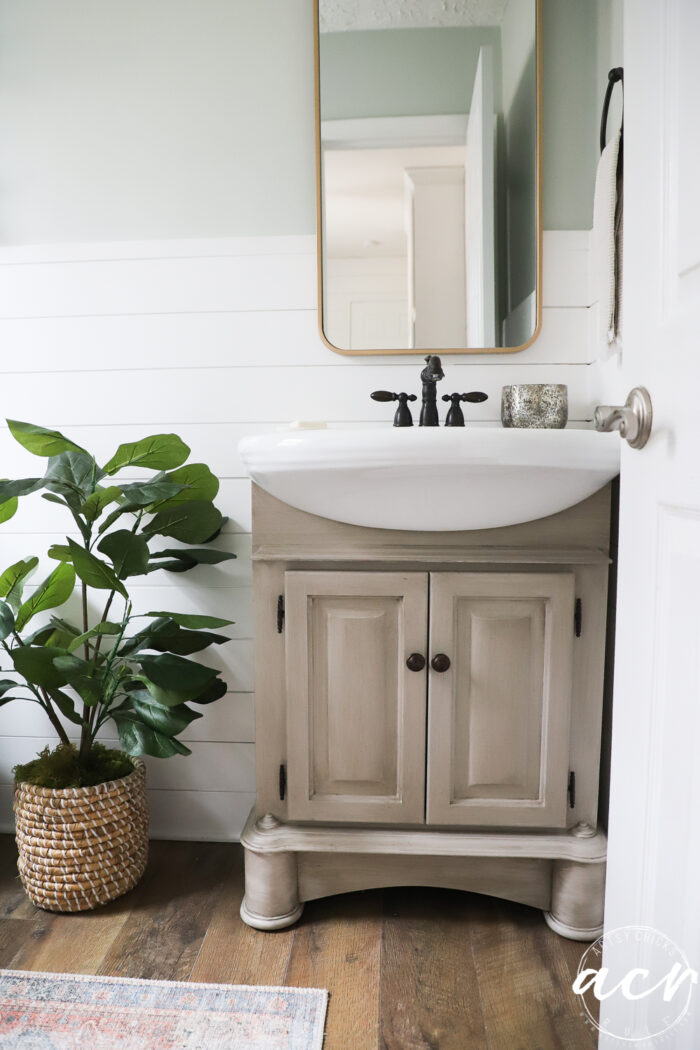 I found these at Home Goods.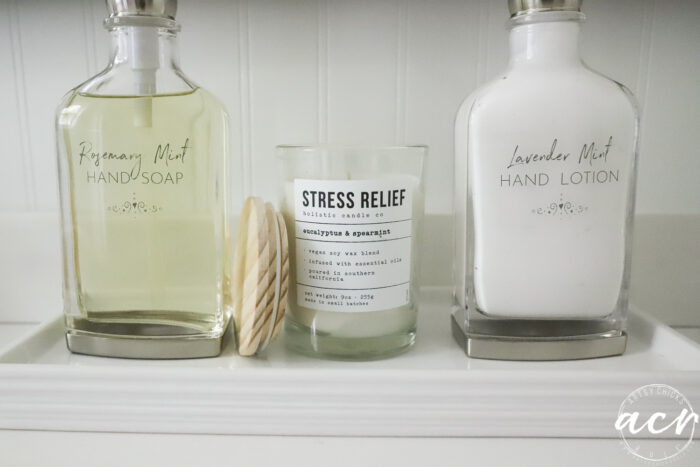 And designed and printed out some labels on clear label paper for them.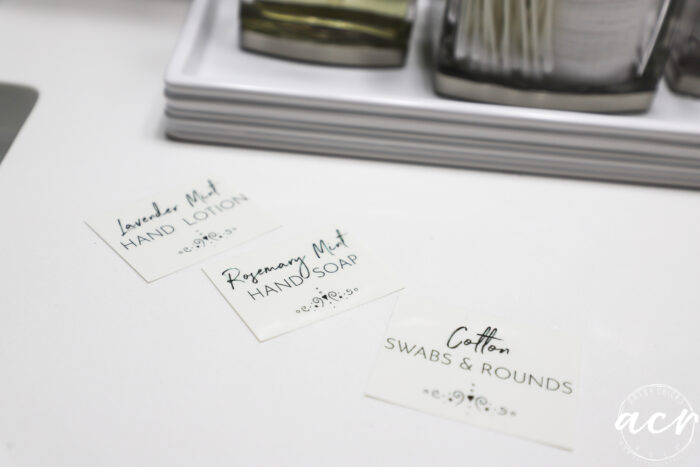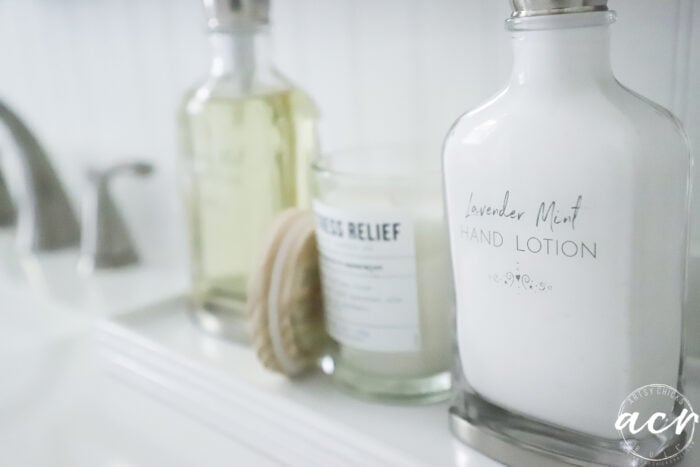 Everything is guest-ready!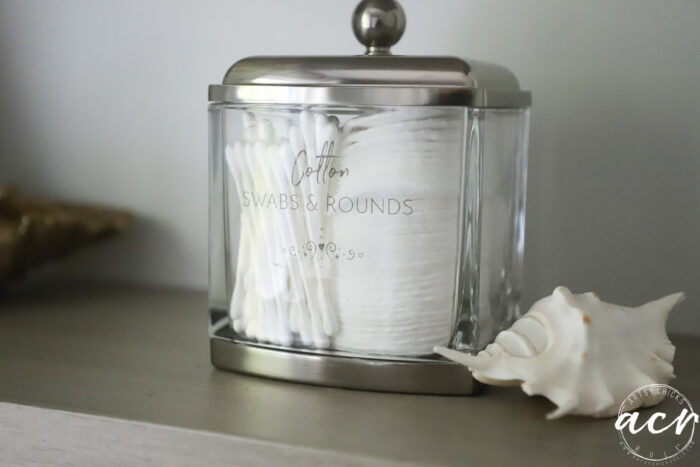 Loving the new color of the shelves in here.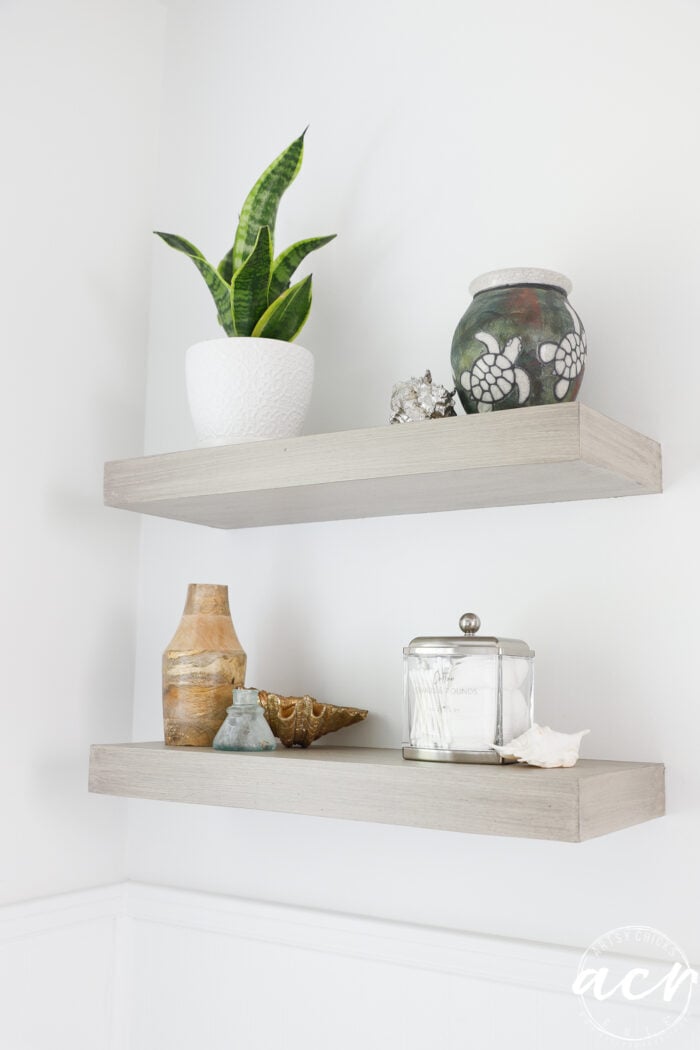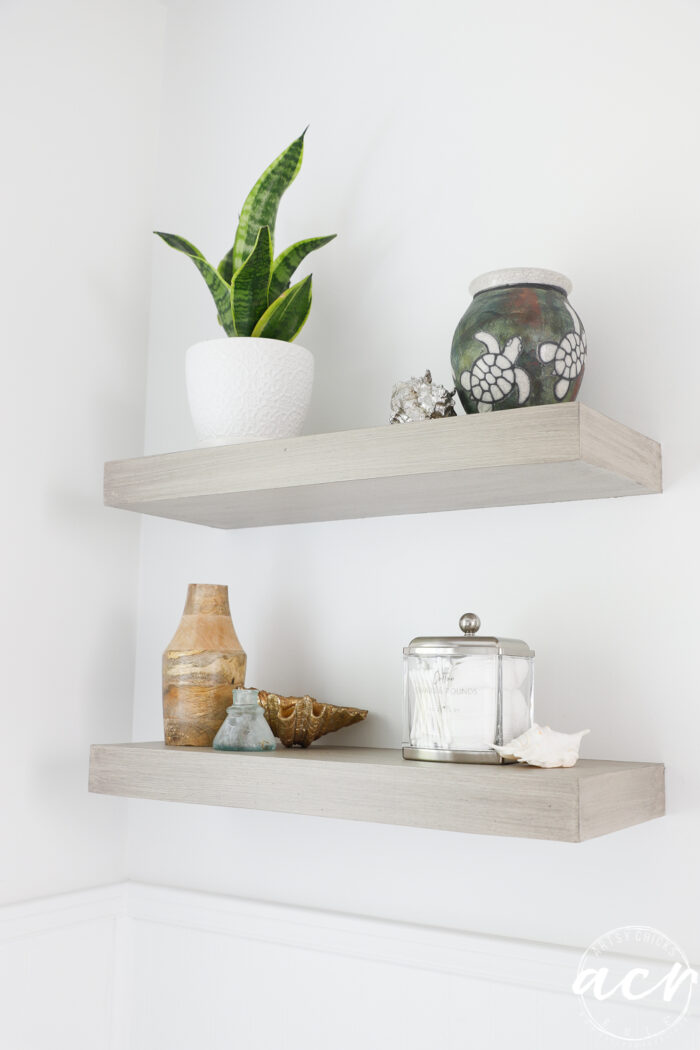 Missed that makeover? You can see it here >>> Wood Look Floating Shelves
I found a basket to use for trash. (I will line it with a bag, I'm sure but it's prettier without for the photos lol)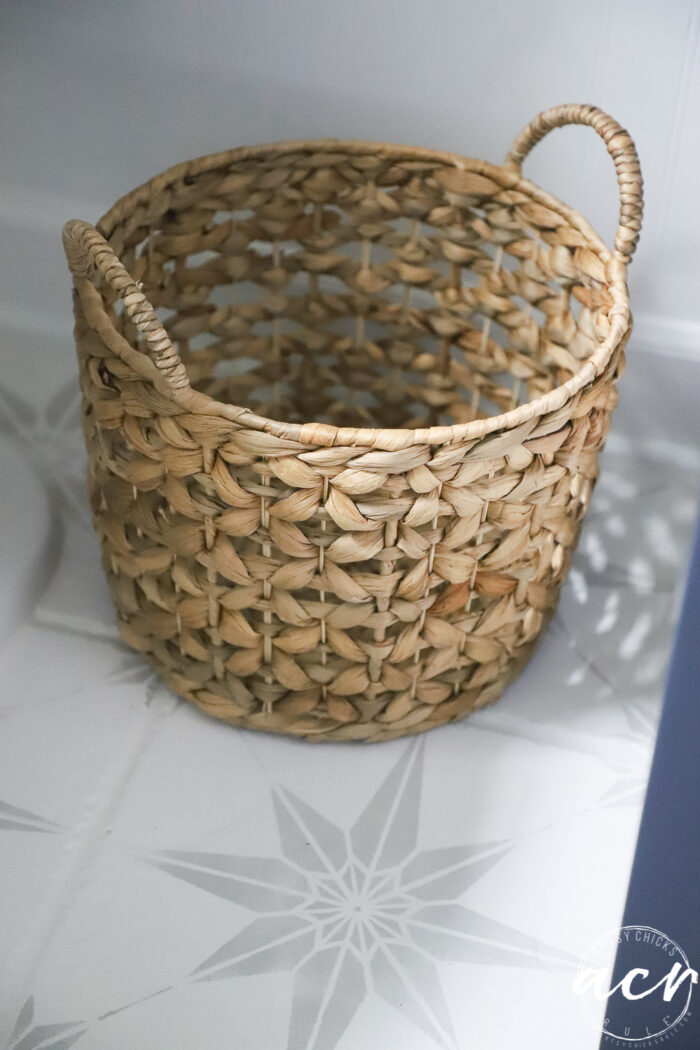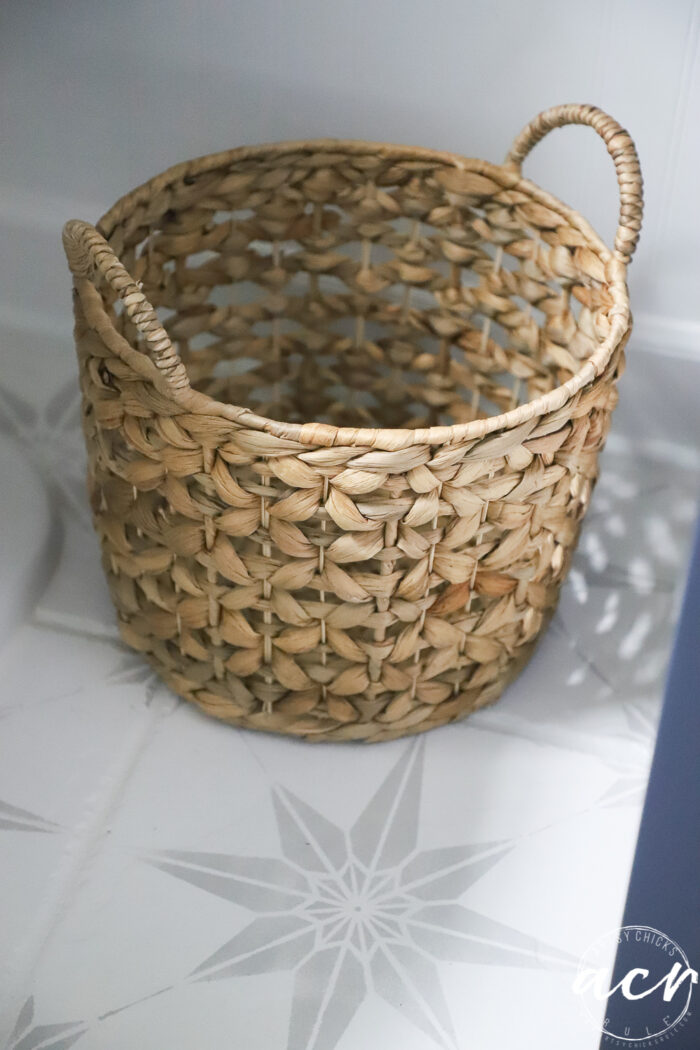 So pretty but oh, what is that peaking in the mirror over there??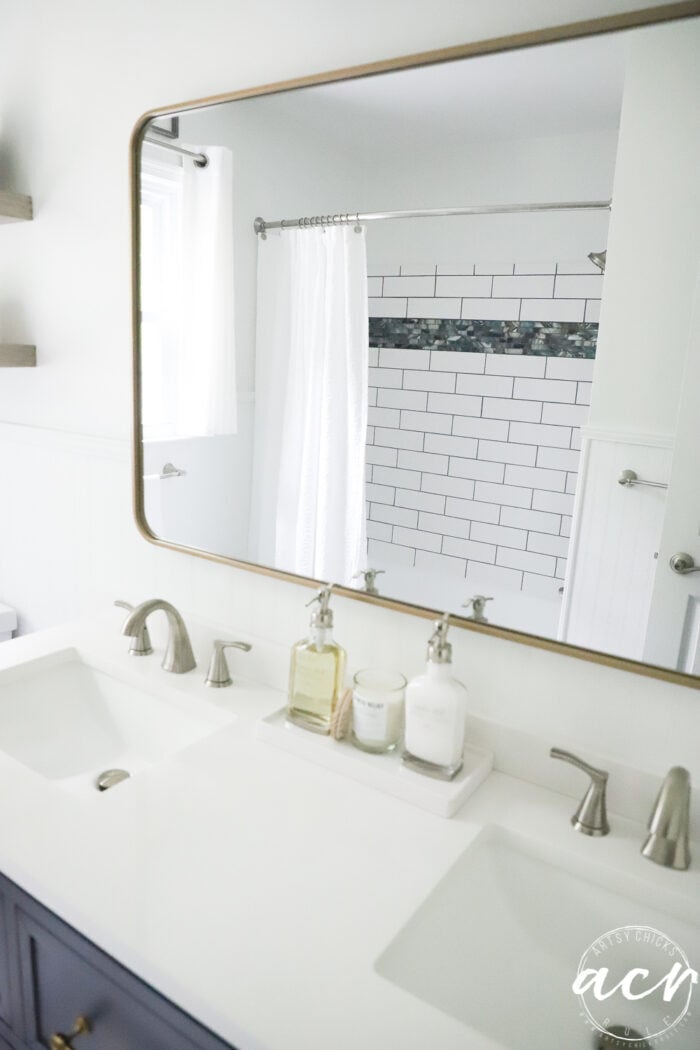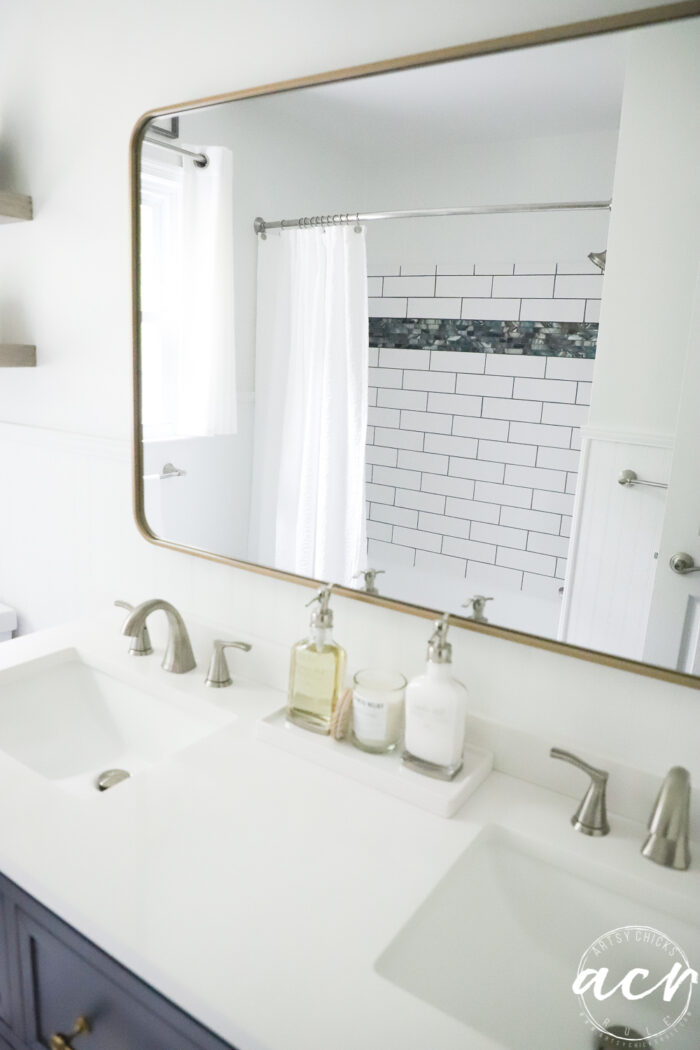 That gorgeous tile job we completed a while back.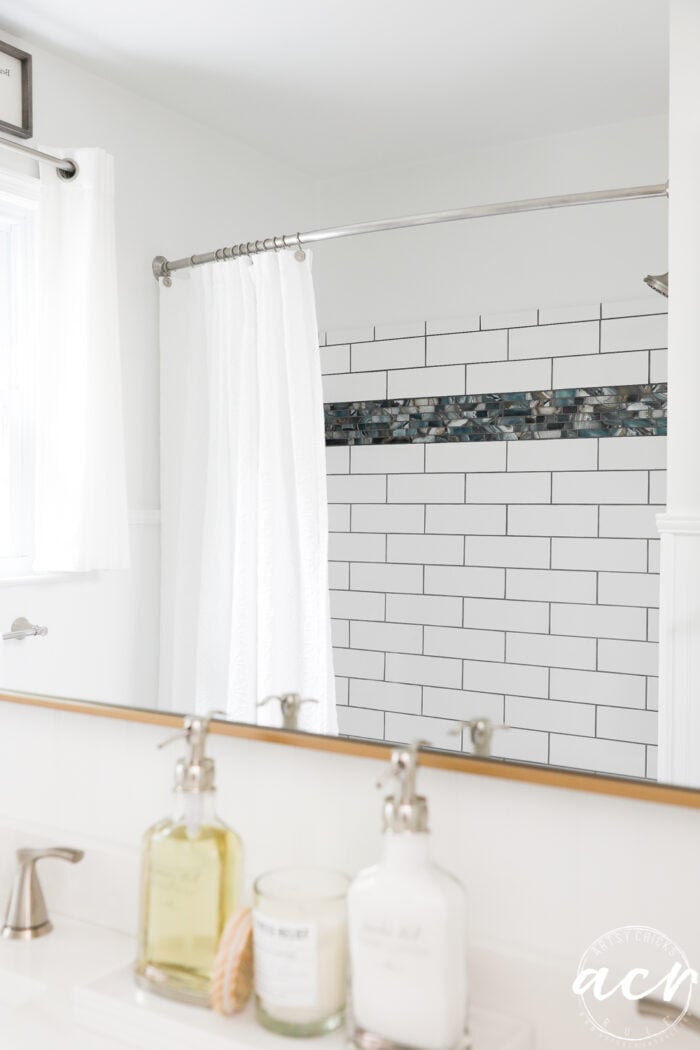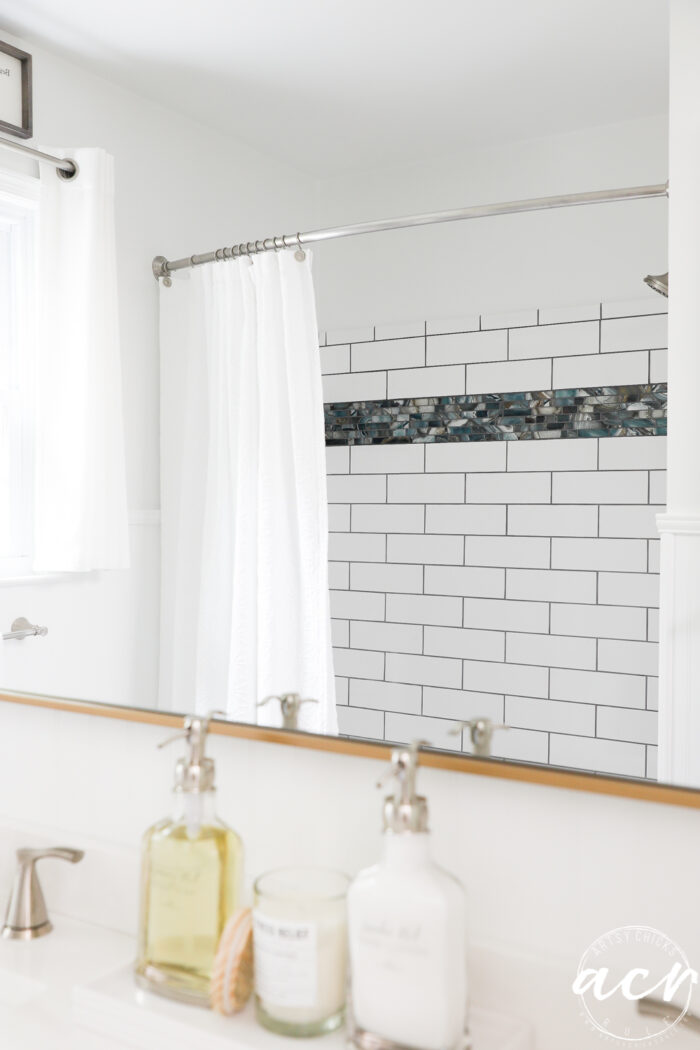 I tiled our main bathroom shower and figured what the heck, let's do this again.
You can see that bathroom makeover here >>> Coastal Bathroom Makeover Reveal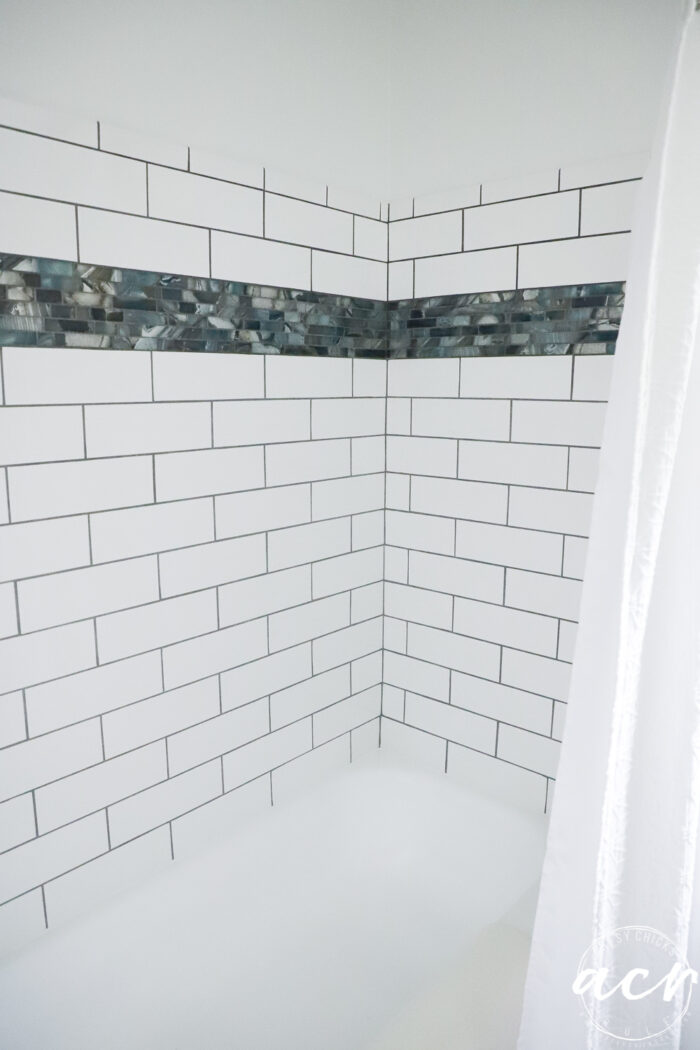 We had previously installed a prefab wall surround. It had gotten yellowed and dingy looking over the years, and again, it was a quick budget-friendly fix like the rest of that first remodel so many years ago.
We did not want to keep it so took it down and tiled it instead. SO very glad we did.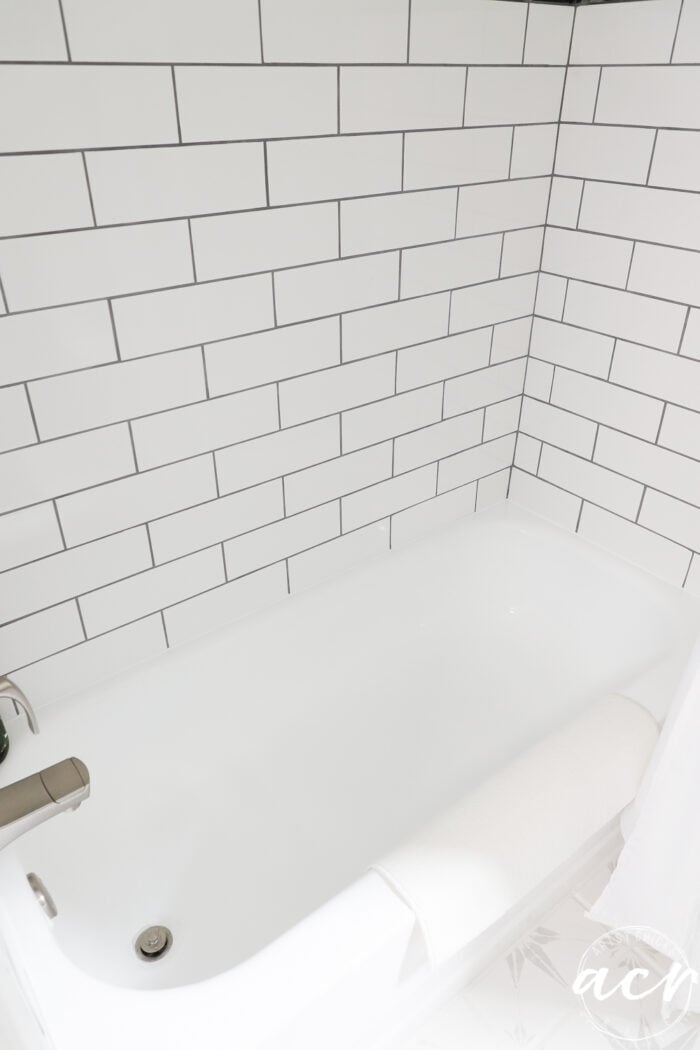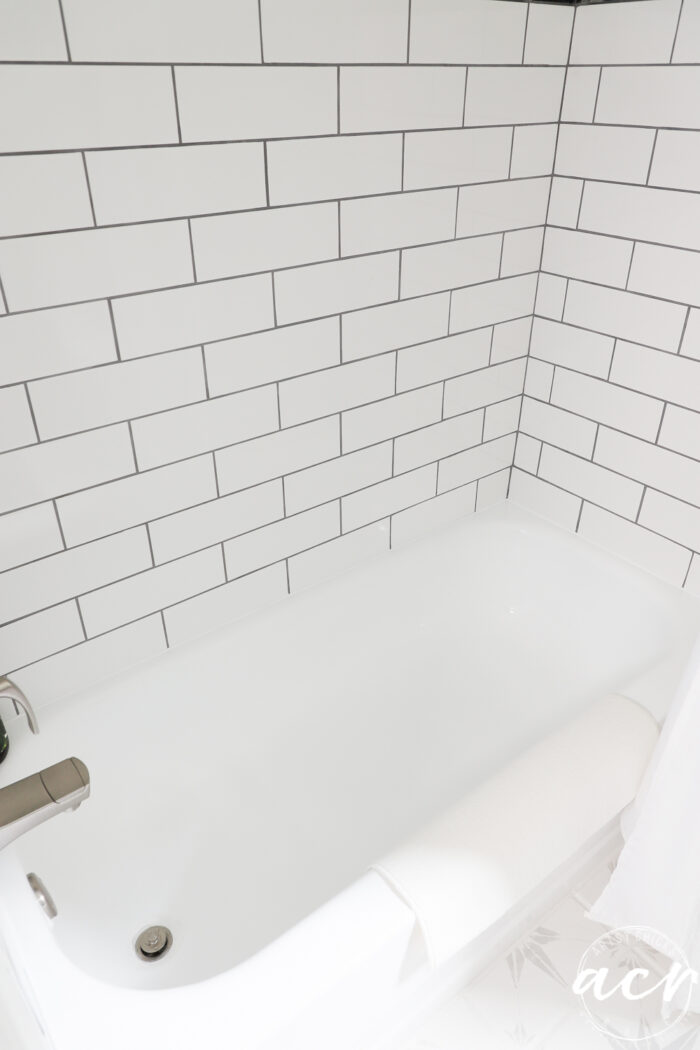 And the tub looks amazing reglazed. Like brand new!
New faucets, etc.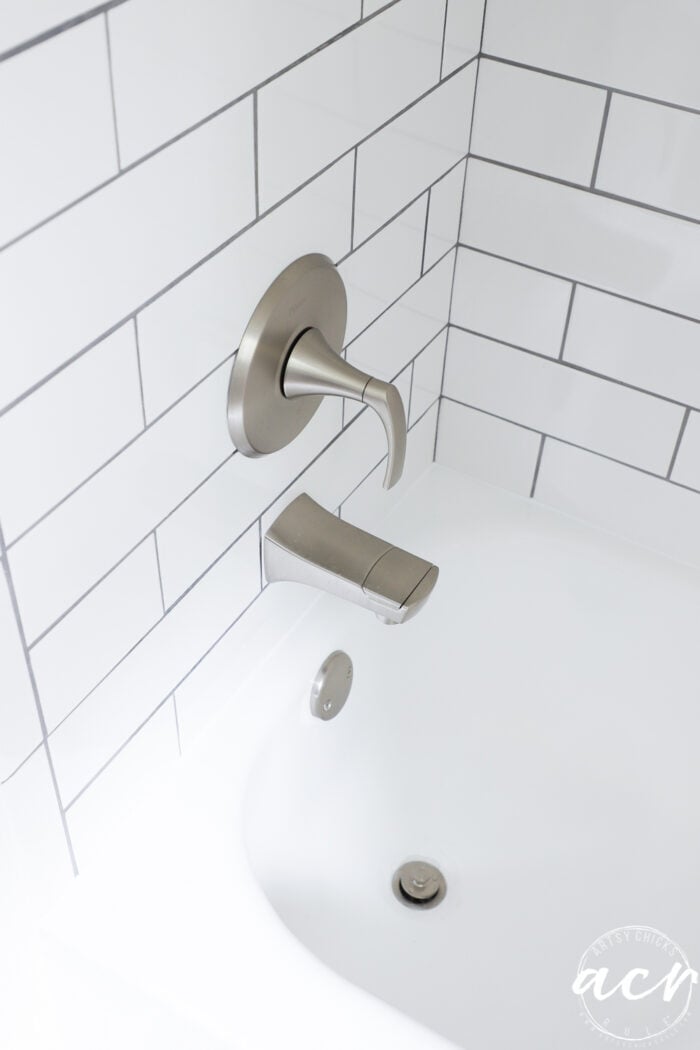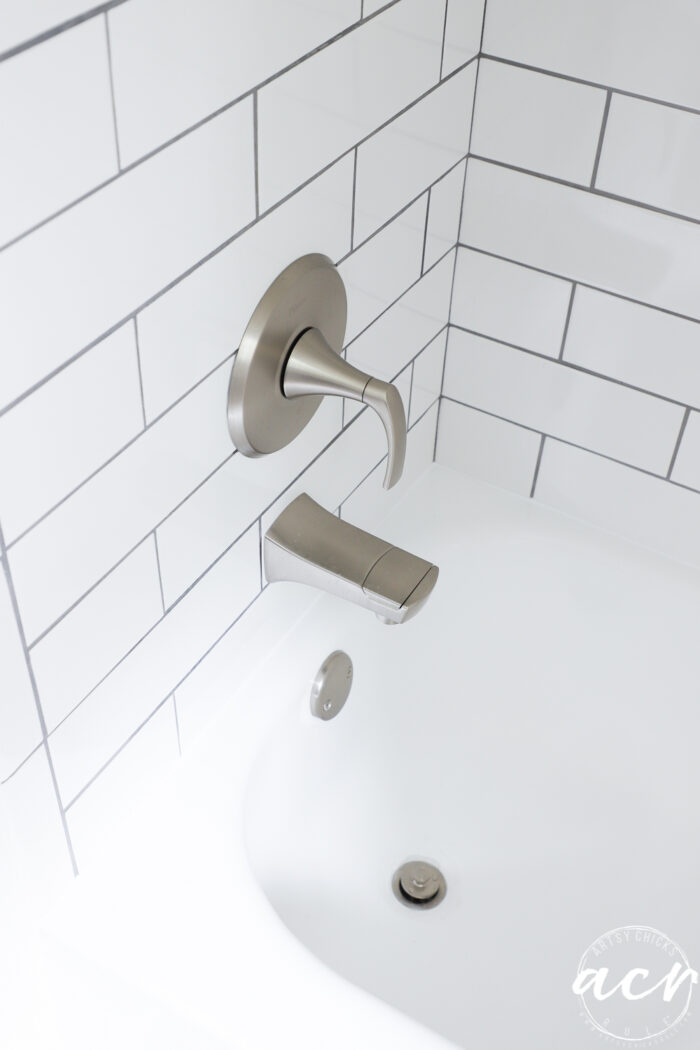 So good.
Up close of the pretty blue "stone-look" tiles I chose for the accent part.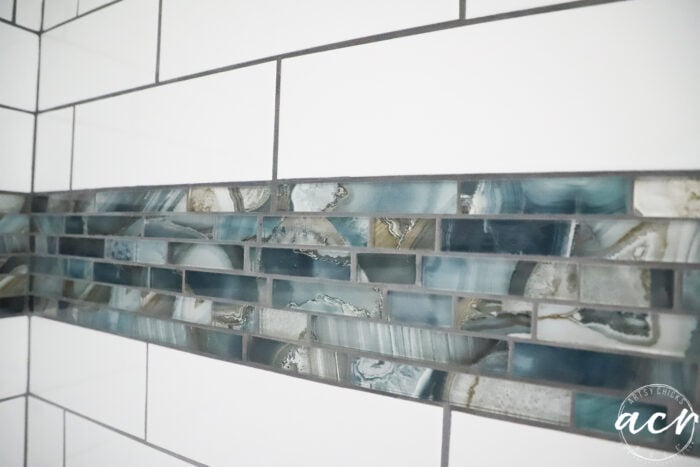 Love how it all turned out. Light and bright and airy.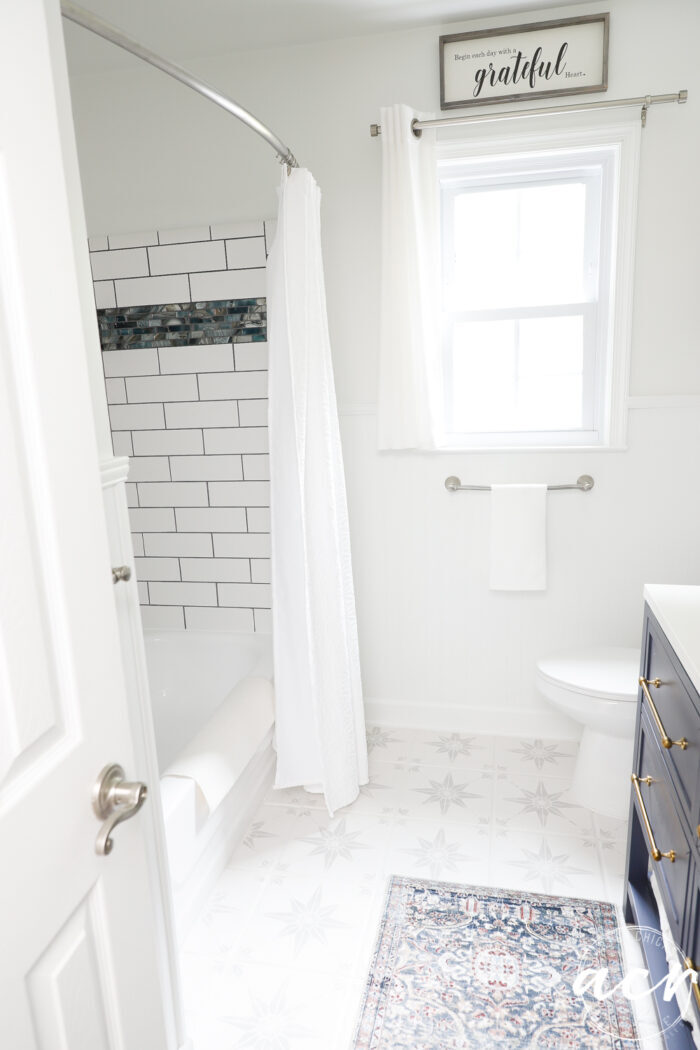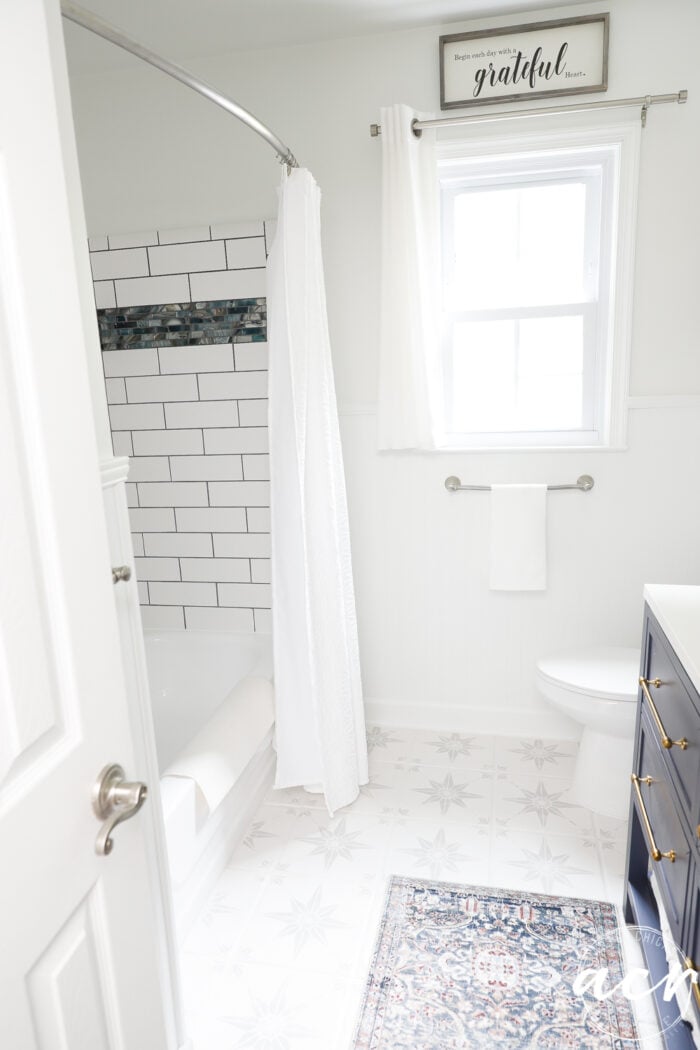 And check out the new shower curtain I found for in here…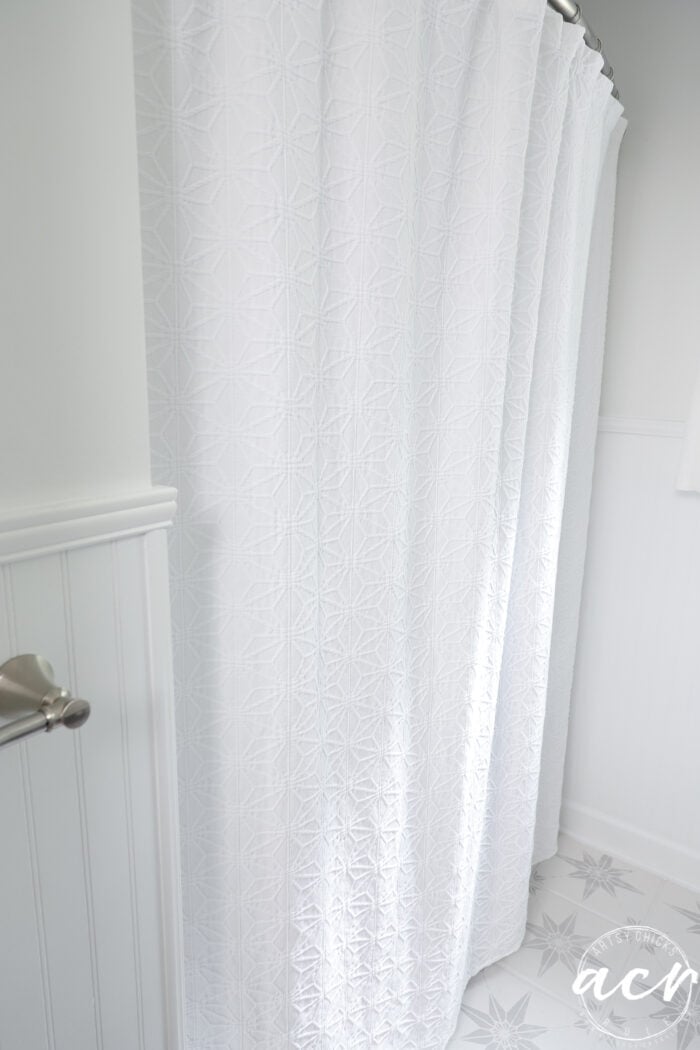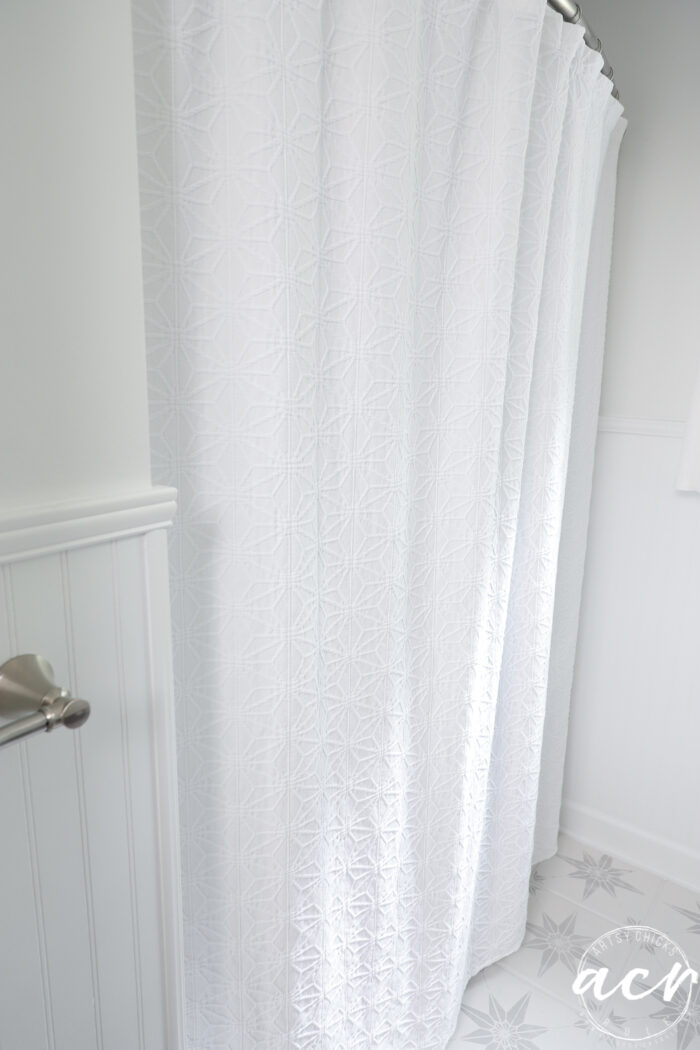 See the star pattern that aligns with the star pattern on the floor?? Love that.
I found this sign at At Home, I thought it'd be the perfect addition right there.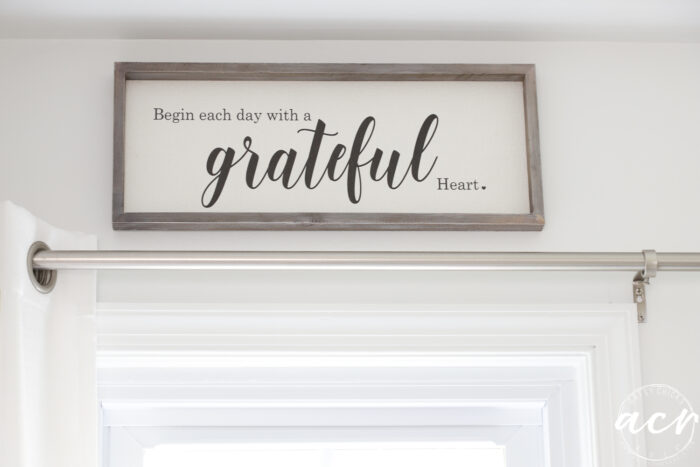 (it had a dark brown frame that just was not right … so I whitewashed it to give it a gray-ish look instead)
Up high and almost the first thing you see every morning when you go in to get ready for the day. Perfect!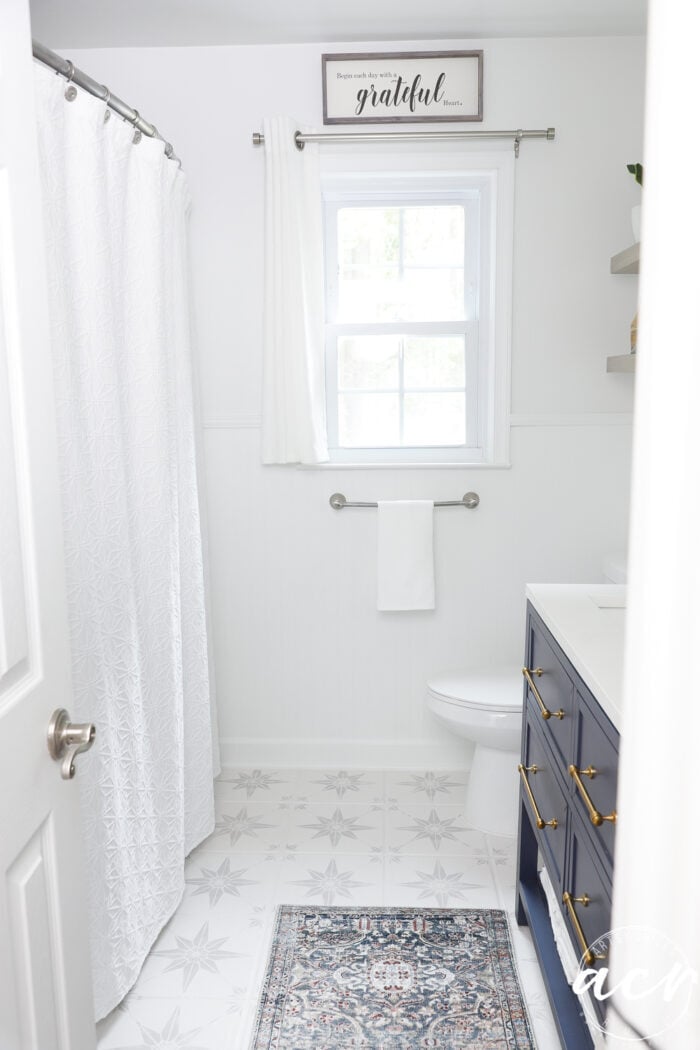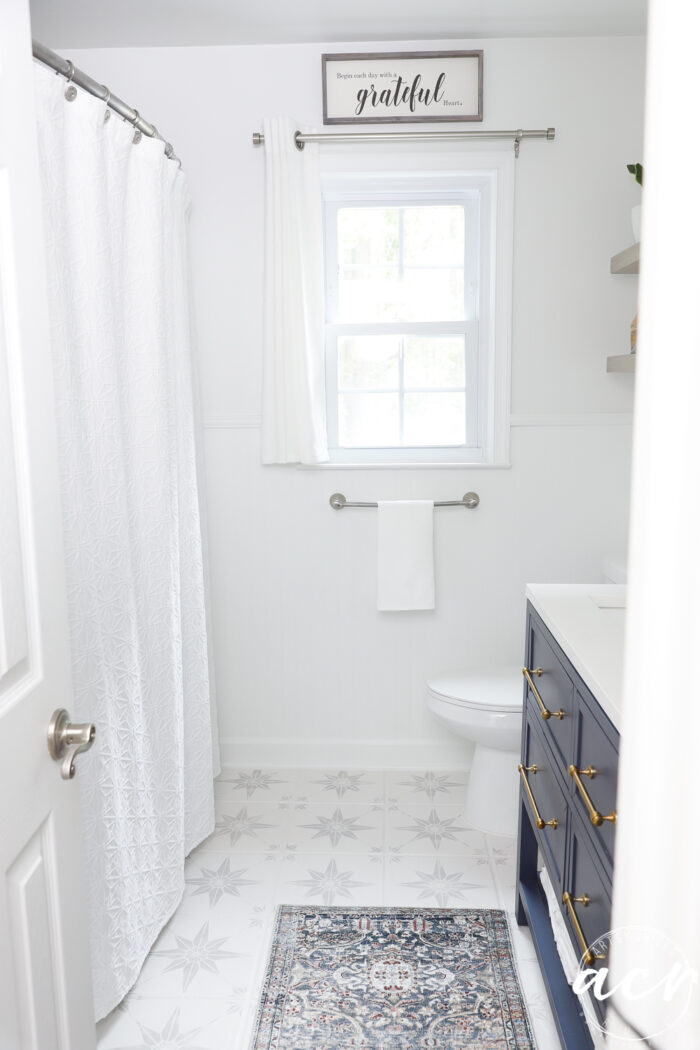 But how about those pretty star tiles???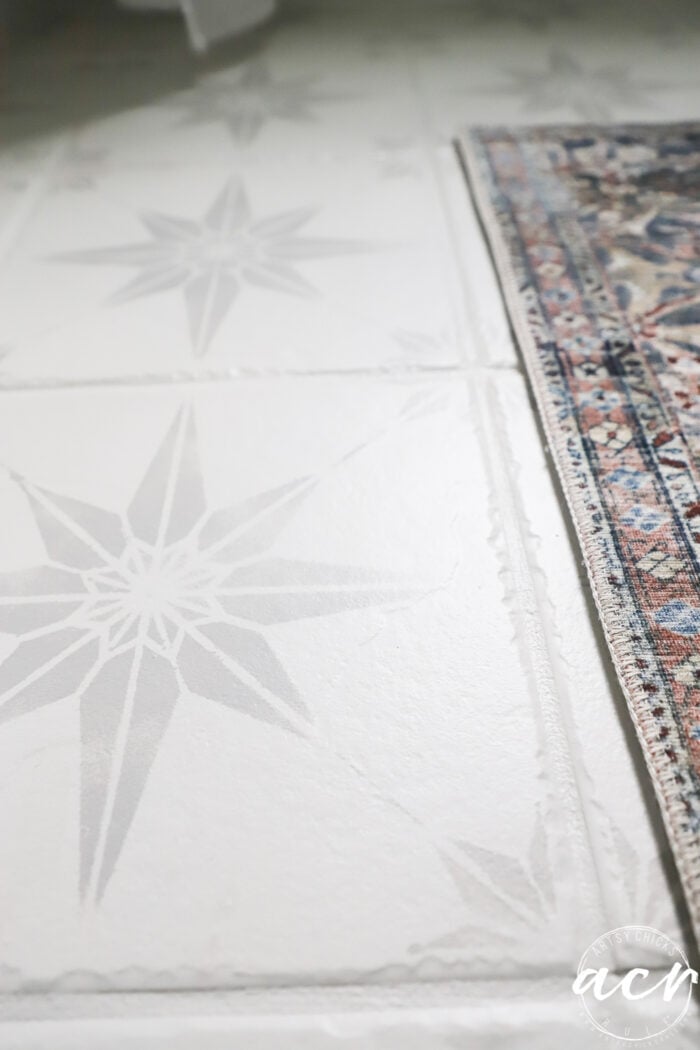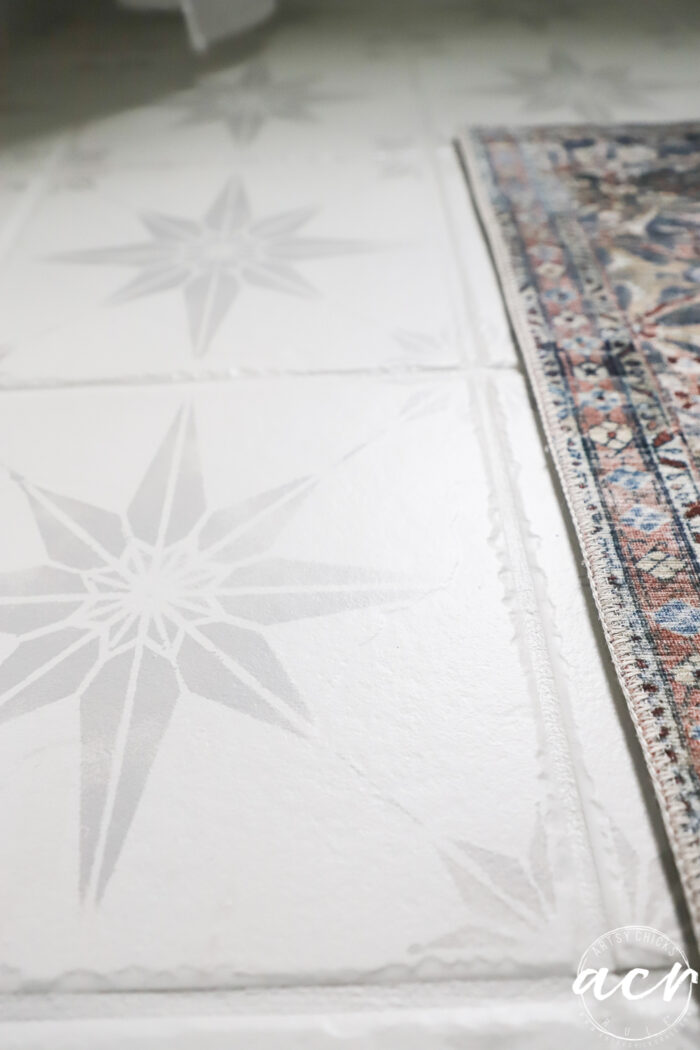 I mean, how pretty does this look? Can you believe these are the same boring tan tiles painted??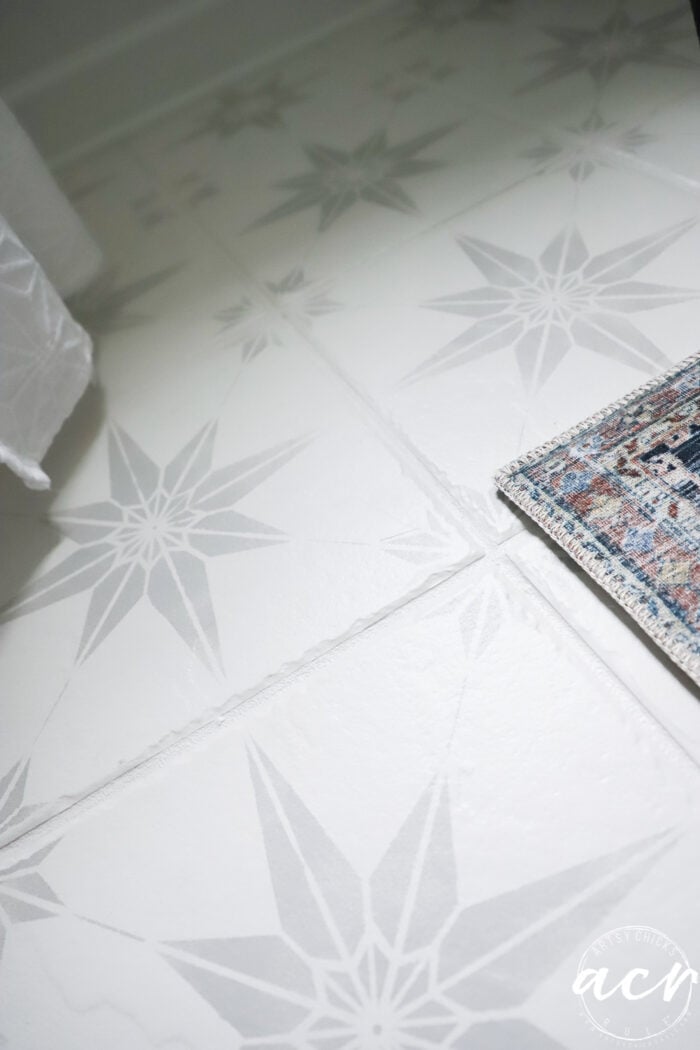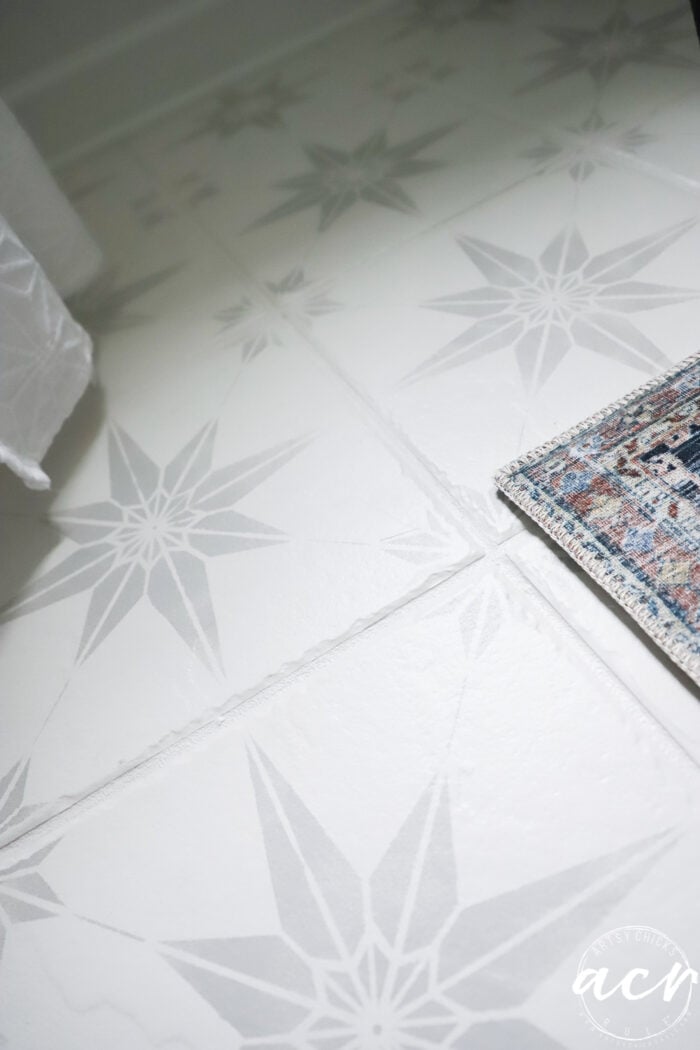 They are! And I did it!
I've been wanting to paint these tiles for so long. And it turned out so much better than I even imagined.
I will be sharing a full tutorial on how I did it next week. Stay tuned!
Here's the source list for everything I could find.
*Wall color is Pure White by Benjamin Williams (color matched by Sherwin Williams)
*Beadboard and trim color is Extra White by Sherwin Williams
I hope you enjoyed seeing our hall bath remodel and how it evolved over the years.
PIN it to save it!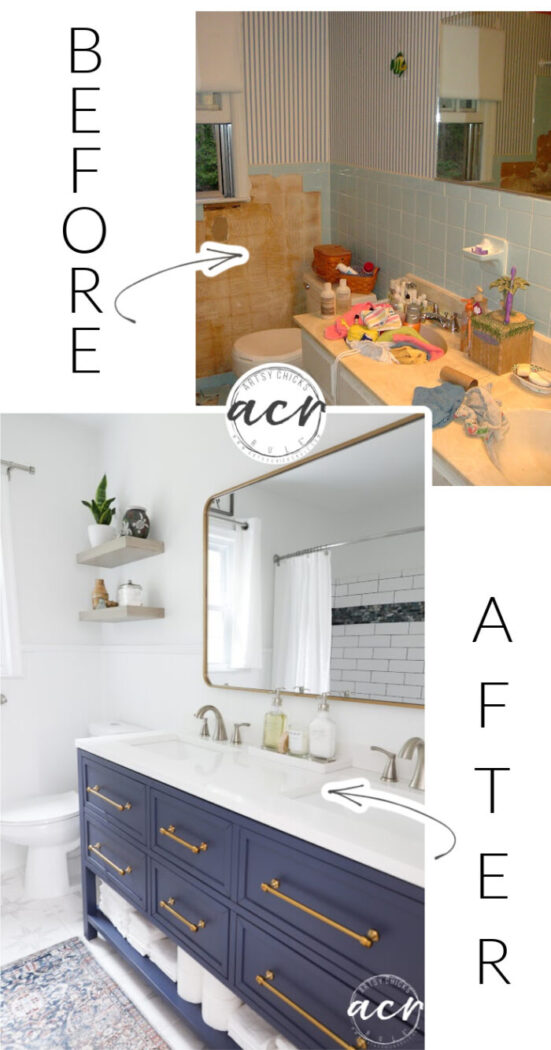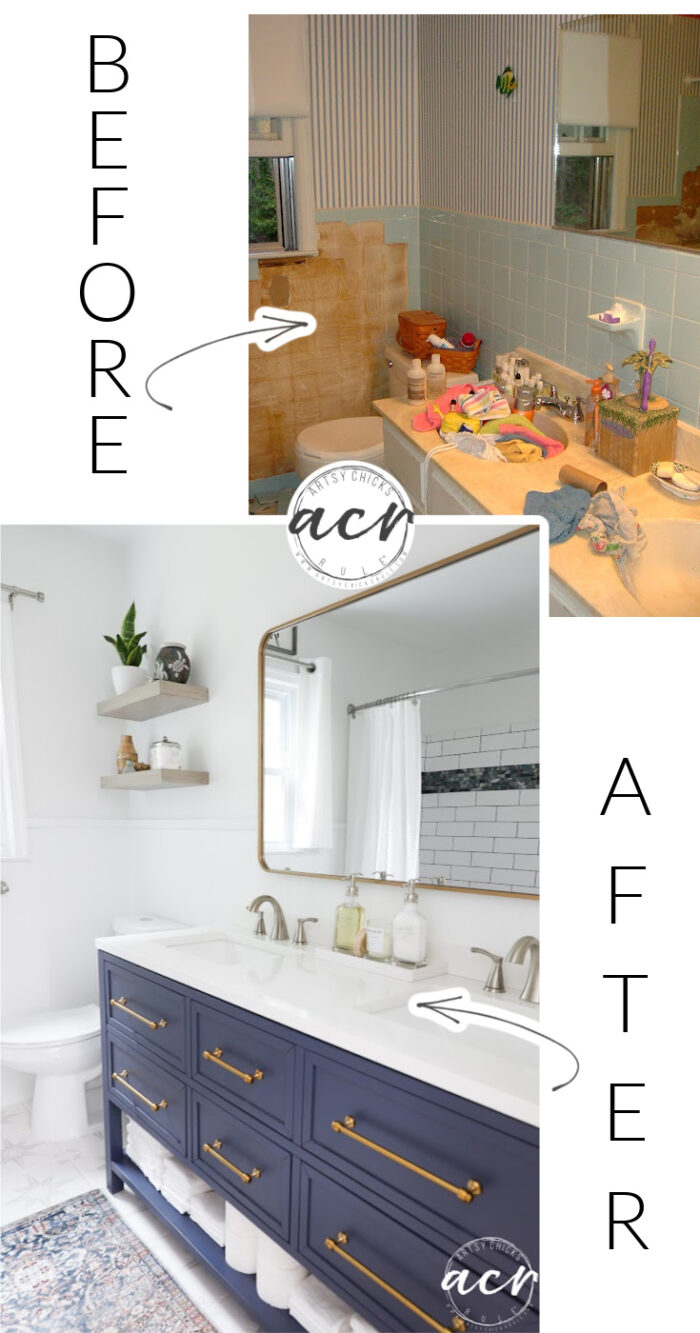 Such a difference, huh?!
Do you still need something for Mother's Day? Don't forget to check out the round-up of ideas I shared last week, here.
I hope you have a wonderful week! Get out and enjoy this beautiful spring weather. Love this time of the year. 🙂
xoxo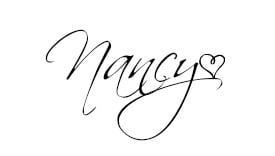 Follow Along Here!




[ad_2]

Source link